Lebanese TV anchorwomen in Egypt are viewed by the public as more "exotic "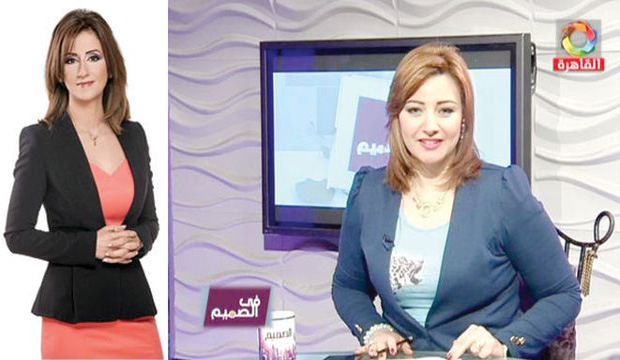 A new wave of Lebanese TV anchorwomen, sporting a more relaxed and outgoing presenting style, are appearing on Egyptian satellite TV channels, sparking a new debate about the competition between foreign and homegrown media talent in the country.
Media experts informed Asharq Al-Awsat that the influx of Lebanese TV anchorwomen is part of a successful attempt to boost television viewership. However, the rush by some of Egypt's most prominent satellite TV channels to employ Lebanese anchorwomen and female TV presenters is leading to complaints that the new arrivals are sidelining their Egyptian counterparts. Among the new Lebanese faces on Egypt's TV screes are Raghda Shalhoub, a new addition to Al-Hayat TV, and Liliane Daoud, who was recently hired by ONTV.
Analysts say that many TV executives believe Lebanese broadcast journalists like Shalhoub and Daoud are viewed by the Egyptian general public as being more exotic, particularly in terms of their onscreen sense of style, while the Lebanese Arabic dialect is also perceived as being more glamorous by Egyptian viewers.
The latest trend has created controversy in the North African country, with some Egyptian anchorwomen complaining they will be forced to compete with the Lebanese newcomers by copying their style.
Other analysts attribute the new trend to purely financial reasons, arguing that the new wave of Lebanese anchorwomen and TV presenters—who are predominately relative newcomers to the industry—are generally willing to work for less money than their homegrown counterparts.
"A satellite channel is essentially a business enterprise and Lebanese anchorwomen accept lower pay compared to others," a senior executive at a private Egyptian TV channel told Asharq Al-Awsat.
Speaking on the condition of anonymity, the TV executive added: "They are ready to work at any time, and are willing to go out in the field and present from the ground. As for Egyptian presenters, time is a major problem since they follow strict working hours."
However, despite playing up the financial factors, the executive acknowledged that Lebanese female TV anchors "hold a special appeal for the [Egyptian] public."
Faced with competition from their Lebanese colleagues, Egyptian TV anchorwomen may feel obliged to ape the presenting style and fashion choices of the Lebanese newcomers, warned Faten Abdul-Ma'boud, who works for Egypt's state-owned TV channel.
She told Asharq Al-Awsat: "The presence of Lebanese [female presenters] on satellite channels is not a problem. The problem is if Egyptians start copying their style of dress and presenting."
"The way Lebanese anchorwomen dress is incompatible with the conventional dress code the Egyptian viewer is used to seeing," she added.
Abdul-Ma'boud expressed fears that superficial considerations are becoming an increasingly important factor on Egyptian TV.
Ever since TV became widely available in Egypt in the early 1960s, female presenters have adhered to a conservative on-air dress code. While this has varied throughout the years under different political administrations, Egyptian TV has generally held firm to the same standards.
"Many Egyptian households may not accept the 'Lebanese style' which they are not used to seeing on Egyptian screens. Imitating this style may work for light entertainment, but will not be possible for news broadcasts," Abdul-Ma'boud told Asharq Al-Awsat.
However, Farouk Abu Zeid, the head of the media department at Egypt's Misr University for Science and Technology, said that questions relating to fashion and wardrobe choices were secondary concerns when it came to TV presenting and that the most important thing is for TV presenters—whatever their nationality—to adhere to professional standards.
He told Asharq Al-Awsat: "So long as satellite channels broadcast to audiences abroad, any presenter, no matter what nationality they hold, has every right to work and appear on screen."
"It makes no difference to me who the presenter is . . . What is important is that she is successful and capable of communicating ideas," he said.
Abu Zeid played down fears that Egyptian media cadres are being sidelined, arguing that the number of Lebanese TV presenters in Egypt is too negligible to pose a threat.
"The argument that Lebanese anchorwomen could pull the rug from under the feet of local TV presenters is an over-exaggeration. There is no problem; the number of Lebanese [TV presenters] working in Egypt currently stands at just between 20 and 30," he added.
According to Abu Zeid, the practice of hiring Lebanese staff will have a "positive impact" on the Egyptian media and offer an opportunity to boost competition.
"It is a chance for [Egyptian and Lebanese TV presenters] to influence each other. Mutual influence makes competition stronger," he said.
Asharq Al-Awsat