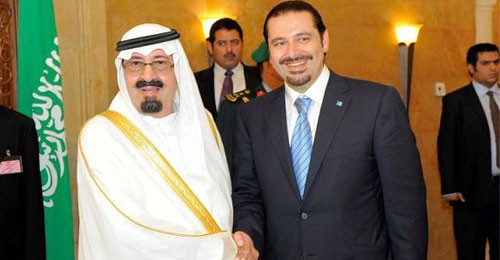 A delegation that includes Speaker Nabih Berri, prime minister Tammam  Salam, and a number of ministers and MPs headed to  Saudi Arabia on Friday to  pay respects to the family of the  late  King Abdullah bin Abdel Aziz of Saudi Arabia, who passed away on Thursday at the age of 90 .
Lebanese officials and religious leaders described the late king as Lebanon's greatest friend and biggest supporter.
Flags were ordered to be flown at half mast across  government ministries and  3 days of mourning were called  for the death of  the Saudi King
The Saudi embassy in Lebanon announced that it will open its doors for condolences over three days starting  Jan. 24.
"It is with great sorrow and grief that we announce to the Lebanese the [death] of the wisest of Arabs and Lebanon's greatest friend, the Custodian of the Two Holy Mosques, his Majesty King Abdullah bin Abdul Aziz, after a long life of service to his country and (Arab) nation," PM Salam said in a statement prior to departing to the kingdom.
He said with the death of King Abdullah: "Lebanon lost [a figure of] support and backing who always stood on his side in times of crisis, and never hesitated to extend a helping hand."
Salam praised him for what he said were his numerous initiatives that were aimed at boosting Lebanon's national unity, peace and security. Lebanon and other Arab and Muslim countries "lost a unique, courageous leader who had always upheld their causes and concerns." He said
Former Prime Minister Saad Hariri called on fellow Lebanese to mourn King Abdullah "who has continually offered support for Lebanon."
"The Arab and Muslim nations have lost in the absence of King Abdullah Bin Abdul-Aziz a brilliant leader and an exceptional figure that printed the history of the Saudi Arabia Kingdom and the region with great achievements and initiatives, which will remain the benchmarks for political interaction and economic and social growth to the Kingdom and its Arab environs," Hariri said in a statement.
Hariri called on the Lebanese people "who had a special place in the heart of Abdullah bin Abdul-Aziz at the level of father-son relationship" to declare a day of mourning in all areas "in an expression of popular loyalty to the man who never failed to support Lebanon and to stand by its side in the toughest conditions."
In an interview with Al-Arabiya later in the day, Hariri recalled a phone call he received from Abdullah after jihadi gunmen overran Lebanon's northeastern border of Arsal.
"He offered a lot to the Lebanese Army, and he believed that he should support the fight against terrorism in Lebanon. He therefore gave Lebanon a $1 billion dollar grant to fight this kind of terrorism and extremists," Hariri said.
"He called me that day, late at night, and insisted on the announcement of this grant, because he saw the gravity of extremism…"
The $1 billion donation was in addition to another $3 billion donation the king made 8 months earlier to the Lebanese army
Other Lebanese leaders praised the late king
PSP leader MP Walid Jumblatt tweeted: "The great Arab knight departed…"
In a second tweet Jumblatt praised King Abdullah whom he described as the biggest friend of his slain father Kamal Jumblatt who was assassinated in 1977 during the early years of Lebanon's civil war.
Lebanese Forces leader Samir Geagea, held a special press conference to pay tribute to the late king. He lauded Abdullah for "boosting dialogue between religions and civilizations" through a landmark visit to the Pope at the Holy See and the establishment of a center for civilizations in Vienna.
For his part, Grand Mufti Abdel Latif Derian announced three days of mourning in all the institutions affiliated with Dar al-Fatwa in addition to holding a special "prayer for the dead" in all of Lebanon's Sunni mosques following the Friday sermon.
"The whole world suffered a big loss with the [death] of the Custodian of the Two Holy Mosques, King Abdullah bin Abdul Aziz, a pioneer in moderation and openness in the Muslim world," Derian said in a statement Friday.
Salam and Derian wished Abdullah's successor, King Salman bin Abdul Aziz and his Crown Prince Moqrin, "success and accomplishment" in their future deeds and carrying on Abdullah's legacy.