Miss Israel's selfie puts Miss Lebanon in a bind
BEIRUT, Lebanon — Miss Lebanon was just minding her business, she says, when Miss Israel came along, pulled out a smartphone and snapped a selfie — posting it on her social media accounts and implying to all the world that the Lebanese beauty queen had been fraternizing with the enemy.
It was a weekend on which the Lebanese Internet was buzzing with allegations of Israeli offenses large and small.
An Israeli airstrike in Syria had killed Hezbollah fighters there, andHezbollah loyalists were calling it a provocation, posting photographs of the funeral of the most prominent victim, the son of the top commander Imad Mughniyeh, who was assassinated in Damascus in 2008 in an attack that Hezbollah also attributes to Israel. The slogan "Je Suis Jihad Imad Mughniyeh," honoring the son in the style of Charlie Hebdo, was shared tens of thousands of times.
Yet that outpouring was largely among Hezbollah loyalists. Uniting perhaps a broader-based segment of Lebanese citizens was outrage over a different act of (in their view) Israeli aggression.
On Jan. 11, it seemed, Miss Israel, Doron Matalon, had taken a snapshot of herself in Miami, where the world's representative beauties were gathered for Donald Trump's Miss Universe pageant.
Standing next to her was Miss Lebanon, Saly Greige, along with Miss Slovenia and Miss Japan. When the image began circulating on social media — with the word "Israel" prominently seen on Ms. Matalon's T-shirt — the Lebanese were not pleased.
People started a hashtag in Arabic offering to tell Ms. Greige, "Two Words." Most of those words were not words of approval.
"You don't represent Lebanon," a journalism student, Yasmeena el-Sabeh, declared on Twitter.
Yet others defended Ms. Greige. "You are beautiful, it's one image," wrote Sana Rhimi, a dentistry student. "Others are doing much more terrible things, and no one says a word about it."
Officially, a state of war has persisted between Israel and Lebanon since 1948. The creation of Israel, and the ensuing war, flooded Lebanon withPalestinian refugees. Israel invaded Lebanon several times, and ultimately occupied parts of the south until 2000. It fought a war with Hezbollah in 2006.
Ms. Greige, on her Facebook page, said Ms. Matalon had taken the photograph without asking.
"Since the first day of my arrival to participate to Miss Universe, I was very cautious to avoid being in any photo or communication with Miss Israel," Ms. Greige wrote. "I was having a photo with Miss Japan, Miss Slovenia and myself, suddenly Miss Israel jumped in, took a selfie, and put it on her social media."
She even posted a revised version of the picture, with Miss Israel cropped out.
Ms. Matalon said the brouhaha "doesn't surprise me, but it still makes me sad."
She wrote: "Too bad you cannot put the hostility out of the game, only for three weeks of an experience of a lifetime that we can meet girls from around the world and also from the neighboring country."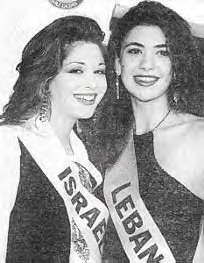 It was not the first time Middle East politics had marred the pageant. According to CNN , in 1993 Miss Lebanon , Ghada El Turk faced prosecution for posing with Miss Israel Jana ,Khodirker, because of this photo (R) . Lebanon's top public prosecutor wanted to try her for "collaborating with the enemy," but apparently the case went away when Miss Lebanon claimed she didn't realize she was standing next to Miss Israel. It was four months after the pageant before Miss Lebanon was allowed back inside her country.
NY Times/YL/CNN