Israel's strike has placed Iran on its border, warns Lebanon speaker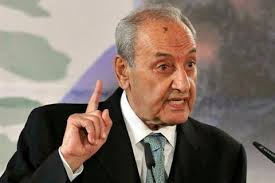 Lebanon Parliament Speaker Nabih Berri warned on Wednesday of the dangers of Israel's strike on Syria's Quneitra region, saying that it committed a "strategic error " by placing Iran on its border.
Berri, a key ally of the Iranian backed   Hezbollah militant group  said: "Through this crime, Israel placed Iran on its border."
This was in reference  to  the killing  of Iranian Revolutionary Guards General Mohammed Allahdadi  and other Hezbollah and Iranian  officials /commanders/fighters in  the Quneitra , Golan Heights strike by an Israeli  helicopter last Sunday .
Berri,made his remarks during his weekly meeting with lawmakers at his Ain el-Tineh residence in West Beirut.
The speaker  however noted that the strike will not affect the dialogue between Hezbollah and the Future  Movement.
"The talks have yielded direct results in that tensions have been eased and Lebanon's internal scene has been fortified," Berri stressed.
He later sent a cable of condolence to Iranian Supreme leader Ayatollah Ali Khamenei over the death of Iranian General Allahdadi and other officials .
Earlier, Berri had accused Israeli Prime Minister Benjamin Netanyahu of timing a deadly air raid on Hezbollah in the Golan Heights for political purposes linked to the upcoming elections.
Local dailies on Wednesday quoted Berri as saying that Netanyahu was "fighting the elections with blood."
"He could win because he always resorts to this method," the speaker reportedly told his visitors on Tuesday.
The Israeli PM "marched in Paris against terrorism and returned (home) to practice it in Quneitra," said Berri.
The speaker was referring to Netanyahu's presence in the Paris  march by world leaders following deadly terrorist attacks earlier this month.
Berri was asked by his visitors on whether the air raid would have repercussions on Lebanon. He answered: "It's not up to Israel to decide when and where Hezbollah would respond."
"Hezbollah's leadership would choose the date and place of retaliation," said Berri.
"devastating thunderbolts"
Israel's strike  in Syria 's Golan has prompted ominous warnings from both Tehran and its Hezbollah allies in Lebanon, including the threat of "devastating thunderbolts" against the Jewish state. As alarming as some of the rhetoric may be, neither party is likely to risk major retaliation against Israel, Middle East experts said. Instead, Hezbollah and Iran are likely to temper their response so as not to provoke a military escalation neither of them can afford to sustain at the moment.
Along with Allahdadi, five other Iranian military men were killed in the Israeli strike on Sunday, as well as six members of Hezbollah, including the Lebanese militant group's Golan coordinator, Jihad Mughniyeh. The killings of the high- profile targets elicited the response of the chief of Iran's Revolutionary Guards, Ali Jafaari, who vowed that his country would "fight to the end of the Zionist regime," according to Reuters.