Hezbollah bids farewell to son of slain commander Imad Mughniyeh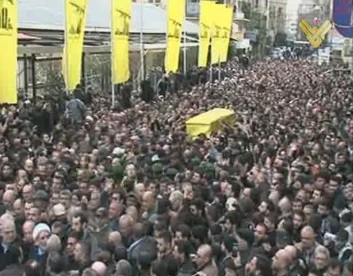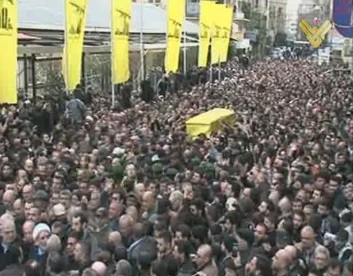 Thousands of Hezbollah supporters marched Monday behind the yellow-draped coffin of one of its most prominent fighters killed the day before in what the group said was an Israeli airstrike in Syria, pumping their fists angrily in the air and chanting, "Death to Israel."
Tehran added to the combustible mix even further, announcing Monday that a senior Iranian general also died in the airstrike in the Golan Heights, along with the six Hezbollah members.
The airstrike — neither confirmed nor denied by Israel — was a serious blow to the Iranian-backed Hezbollah, stretched thin and neck-deep in Syria's civil war where the group's Shiite fighters are battling alongside President Bashar Assad's forces.
The emotional funeral of Jihad Mughniyeh — the son of Imad Mughniyeh, a top Hezbollah operative assassinated in 2008 in Damascus and one of the six Hezbollah fighters killed Sunday in the Golan — is likely to further ratchet up tensions between the militant Lebanese Shiite group and its archenemy Israel.
Jihad Mughniyeh is the group's most prominent figure to die so far in Syria since the Shiite militant group joined the conflict next door in 2012, fighting on Assad's side against the Sunni-led rebellion. The younger Mughniyeh had been photographed with Hezbollah chief, Sheik Hassan Nasrallah, and with the powerful Iranian Gen. Ghasem Soleimani, highlighting his standing within the group.
Thousands of people lined the streets of the Shiite-dominated neighborhood of Ghobeiri in southern Beirut, a Hezbollah stronghold, as dozens of men in military uniforms waved yellow Hezbollah flags.
"They did this to frighten us … But we say, 'Death to America!'" some shouted as bursts of gunfire rang out.

The deaths of the six Hezbollah fighters elevated tensions between Israel and the powerful Lebanese Shiite movement, which recently boasted of rockets that can hit any part of the Jewish state. But it was also a significant setback, coming on the heels of a confirmation last week by Nasrallah that the organization had uncovered and arrested a senior operative who was spying for Israel.
Hezbollah said its fighters were targeted as they were "inspecting positions" near the Israeli-controlled border in the Golan.
In a statement published on the Iranian Revolutionary Guard's website, Tehran confirmed that an Iranian general also was killed in the Israeli airstrike.
It said Gen. Mohammad Ali Allahdadi was on assignment in Syria, giving "crucial advice" to Syrians fighting terrorists, a reference to Sunni rebels and Islamic extremists fighting against Assad's troops. It added that Allahdadi will be buried in the coming days.
Allahdadi is not the first Iranian general to die in Syria. Iran accuses Israel of involvement in the killing of Gen. Hassan Shateri in February 2013 as he traveled from Syria to Lebanon. Shateri was also a commander in the powerful Revolutionary Guard.
Sunday's attack, however, underscored the extent of Iran and Hezbollah's engagement in both the Golan and Syria.
Only last week, Nasrallah denied that Hezbollah was involved in any "resistance work" in the Golan, acknowledging only that his fighters may be offering training and support to pro-government fighters in the area.
Although he did not mention Lebanon or Syria specifically, Israeli Prime Minister Benjamin Netanyahu said Monday that "Israel is adamant that it will have the right to defend itself against all those who wish to propagate terror and other attacks against its citizens, against its territory."
Iran's Foreign Minister Mohammad Javad Zarif, meanwhile, said he "vigorously condemns" the airstrike, describing it as "state terrorism" by Israel.
Nasrallah in an interview last week also reiterated that Hezabollah reserves the right to retaliate for the assassination of Imad Mughniyeh, which Hezbollah says was carried out by Israel's Mossad.
Also among those killed in Sunday's attack was Mohammad Issa, the only one of the six identified by the Hezbollah statement as a commander. He joined Hezbollah at the age of 15 and was among senior cadres who headed the group's operations in Syria.
Another is Abbas Hijazi, whose father Kamal was one of Hezbollah's founders. Hijazi took part in most of Hezbollah's battles against Israel as well as inside Syria over the past decade.
ABC/AP