Israeli helicopter fires missiles in Syria, Al-Manar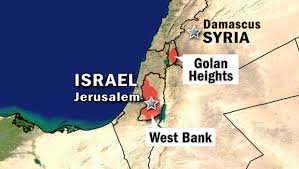 An Israeli helicopter fired two missiles in the Syrian province of Quneitra near the Israeli-occupied Golan Heights on Sunday, the Lebanese Hezbollah-run al-Manar news channel said.
It did not specify the target of the strike in the area, called Amal Farms. The Israeli military declined comment and Syrian state media did not mention the attack.
Quneitra has seen heavy fighting between forces loyal to President Bashar al-Assad and rebels including al-Qaeda-linked fighters.
"An Israeli helicopter fired two missiles on Amal Farms in Quneitra," the Lebanese news channel said, adding that two reconnaissance planes were also flying over the area.
The Syrian Observatory for Human Rights, a Britain-based group monitoring the civil war, said the missiles fired on Sunday targeted armed vehicles, citing local sources.
It said it did not know if the vehicles belonged to the army, Hezbollah or anti-Assad insurgents.
Israel has struck Syria several times since the start of the nearly four-year civil war, mostly destroying weaponry such as missiles that Israeli officials said were destined for their long-time foe Hezbollah in neighboring Lebanon.
Syria said last month that Israeli jets had bombed areas near Damascus international airport and in the town of Dimas, near the border with Lebanon.
Reuters