Swiss Franc Surges as Gold Jumps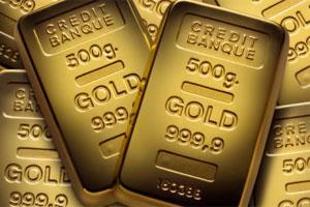 The Swiss franc strengthened to a record against the euro after the central bank ended its minimum exchange rate. Swiss stocks tumbled and shares from Germany to the U.K. rebounded with gold, while U.S. equity futures rose after wholesale prices slumped.
The franc jumped 14 percent to 1.14286 against the euro at 8:45 a.m. in New York, after reaching 85.17 centimes. The Swiss Market Index slid 9 percent, with trading volumes nine times the 30-day average, according to data compiled by Bloomberg. Benchmark gauges in Germany andFrance rose at least 1 percent. S&P 500 futures advanced 0.5 percent. The 10-year Treasury yield decreased one basis points to 1.84 percent. The euro weakened 0.6 percent to $1.1719. Gold futures rose 1.7 percent to $1,255 an ounce while copper and oil rebounded.
The Swiss National Bank lowered the interest rate on sight deposit account balances that exceed a given exemption threshold to minus 0.75 percent from minus 0.25 percent. The move comes after India unexpectedly lowered its benchmark rate. The European Central Bank meets next week amid speculation it will widen an asset-purchase program. U.S. wholesale prices fell the most three years, showing little sign that inflation's bubbling up.
"Markets need some time to reassess the consequences," said Pierre Mouton, who helps oversee $8 billion at Notz, Stucki & Cie. in Geneva. "The SNB's situation had become unsustainable as the pressure on the franc was so high. It's also possible that the SNB knows or thinks that the ECB will do something massive and put even more pressure on the franc, so they anticipated the ECB's move."
Target Range
The SNB unexpectedly gave up its minimum exchange rateof 1.20 per euro today, ending a three-year-old policy designed to shield the economy from the euro area's sovereign debt crisis. It also moved the target range for the three-month Libor to between minus 1.25 percent and minus 0.25 percent, from the current range of between minus 0.75 percent and 0.25 percent.
The franc jumped at least 15 percent against its 16 major counterparts, climbing to 87.62 centimes versus the dollar, after touching 74.06, the strongest since August 2011.
Stocks fell with Cie. Financiere Richemont sliding 16 percent, UBS Group AG sliding 14 percent andRoche Holding AG losing 11 percent.
Banks dragged equity markets lower in Poland, Hungary and the Czech Republic as the franc's appreciation boosted the cost of loan in the Swiss currency. The WIG20 index slid 2 percent as PKO Bank Polski SA, Poland's biggest lender, and Bank Zachodni WBK SA slid more than 6 percent.
The S&P 500 fell 0.6 percent yesterday, extending its 2015 decline to 2.3 percent, the worst start to a year since 2009.
Citi Misses
Bank of America Corp. slipped 2.6 percent in early New York trading after the second-largest U.S. lender said fourth-quarter profit fell 11 percent. Citigroup Inc. dropped 2.4 percent as earnings missed estimates.
BlackBerry Ltd. slid 16 percent after saying it hasn't engaged in takeover talks with Samsung Electronics Co. The stock soared 30 percent yesterday after Reuters reported that Samsung had recently made a bid valuing the Canadian smartphone maker at as much as $7.5 billion.
India's S&P BSE Sensex jumped 2.7 percent, the most since May, and the rupee strengthened 0.8 percent. Central bank Governor Raghuram Rajan cut the benchmark repurchase rate to 7.75 percent from 8 percent, the first reduction since May 2013, and said inflation will probably be below 6 percent by January 2016.
The Shanghai Composite Index (SHCOMP) increased 3.5 percent and the Hang Seng ChinaEnterprises Index of mainland companies listed in Hong Kong added 1.5 percent. China's aggregate financing surged to 1.69 trillion yuan ($273 billion) in December, exceeding the 1.2 trillion yuan median estimate in a Bloomberg survey.
Copper Rebounds
Copper led a rebound in industrial metals after slumping to the lowest in more than five years as credit growth surged in China. The nation accounts for 45 percent of global copper demand, compared with 8 percent for the U.S., Morgan Stanley estimates.
Copper climbed as much as 2.7 percent to $5,699 a metric ton on the London Metal Exchange. The metal slid 5.3 percent yesterday to its lowest closing price since July 2009 amid speculation China's copper demand growth is slowing.
West Texas Intermediate crude rose 1.8 percent to $49.38 a barrel.
Bloomberg