Nasrallah warns Israel that the axis is capable of responding to Syria strikes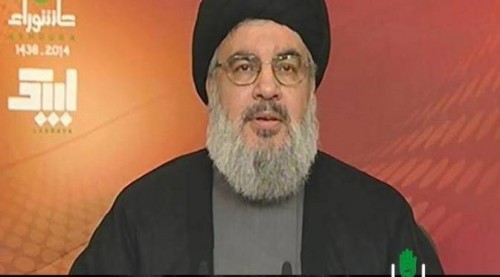 Hezbollah chief Hassan Nasrallah has threatened to retaliate against Israel for repeated strikes on Syria, in an television interview to be broadcast Thursday night.
Nasrallah told Beirut-based Al-Mayadeen that his Iran-backed Shiite movement was well armed and always ready to fight Israel, according to excerpts of the interview issued ahead of its broadcast.
A key ally of Syrian President Bashar al-Assad, Nasrallah said that Israeli strikes on Syria "target the whole of the resistance axis", which includes Hezbollah, Damascus and Tehran.
"The repeated bombings that struck several targets in Syria are a major violation, and we consider that any strike against Syria is a strike against the whole of the resistance axis, not just against Syria," he said.
"The axis is capable of responding. This can happen any time."
"This is the right of the axis of resistance and it is not Syria's right exclusively," Nasrallah added.
"When will this right be practiced? This depends on certain criterion that will be taken into consideration," Nasrallah said.
The Israeli air force has carried out several raids against targets in Syria, including depots storing weapons meant for Hezbollah, since the conflict there started nearly four years ago.
The most recent strike was in December, when Israeli warplanes struck weapons warehouses near Damascus, according to the Syrian Observatory for Human Rights monitoring group.
Israel has never confirmed it carried out the strikes, but it says it has a policy of preventing arms transfers to militant groups including Hezbollah.
Israeli media said, however, after the December strikes that the air force had targeted arms convoys or depots of Iranian-made rockets.
Hezbollah has sent thousands of fighters into Syria to defend Assad s regime.
In 2006, Hezbollah and Israel fought a devastating war that killed some 1,200 Lebanese — most of them civilians — and 160 Israelis — most of them soldiers.
Nasrallah noted that hezbollah does not want a war and that "it is not seeking it,"but Nasrallah underlined that his group maintains its "preparedness."
In the interview, Nasrallah said his movement was ready to fight a new war against Israel in Lebanon and renewed a threat to invade the Galilee region of northern Israel.
Hezbollah fighters "must be prepared", he said.
"When the resistance (Hezbollah) leadership… asks you (fighters)… to enter into Galilee, that means the resistance must be ready to enter into Galilee and to go even beyond the Galilee."
Asked about Hezbollah s arsenal, Nasrallah said the group had "all (the weapons) you can imagine… and in great quantities".
He added: "We are now stronger than we ever were as a resistance movement and God willing we will become stronger than we are now ."
Dialogue with Future
In earlier excerpts of his interview, Nasrallah accused a powerful regional state of backing the extremist Islamic State group in Syria and Iraq and hailed the dialogue between his party and the future Movement for creating "self-restraint."
The regional country "is involved with the IS in Syria and Iraq but is now suffering from a crisis because of its stance," Nasrallah told al-Mayadeen, according to excerpts of the three-hour interview that were published in As Safir daily.
Nasrallah said that Future Movement chief Saad Hariri gave the green light to the dialogue between his movement's representatives and Hezbollah despite the objection of several future Movement officials.
The two sides have held two rounds of talks. Another session is scheduled to be held on Friday to discuss the presidential deadlock.
The dialogue has so far curbed sectarian tension, Nasrallah said. Its results appeared following the suicide bombing that rocked the northern city of Tripoli over the weekend, he added.
"All parties exercised a high level of self-restraint," Nasrallah said, adding "had it not been for the dialogue, the reaction would have been different."
Two Sunni suicide bombers blew themselves up on Saturday at a packed cafe in Tripoli's mainly Alawite Jabal Mohsen, leaving nine people dead and at least 37 injured.
Nasrallah denied in the interview with al-Mayadeen TV that his party's members were "exhausted" in Syria.
Aoun
Nasrallah reiterated his support for his ally Free Patriotic Movement leader MP Michel Aoun, saying he should be Lebanon's next president.
Baabda Palace remains vacant after President Michel Suleiman's six-year term ended last May .
Al-Akhbar newspaper on Wednesday quoted Nasrallah as saying that his party is in possession of all types of weapons.
"We have all sorts of arms that come to your mind," Nasrallah said in a warning to Israel.
"The resistance in Lebanon has everything the enemy can imagine and not imagine," he added.
AFP/Agencies/YL