Bulgaria arrests man linked to one ' Charlie Hebdo' suspect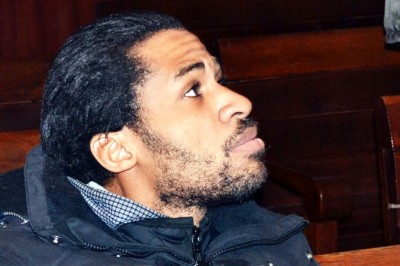 Bulgarian authorities said Tuesday they have arrested a French citizen believed to have links to one of the brothers suspected of killing 12 people in an attack at the offices of the French satirical newspaper Charlie Hebdo.
Fritz-Joly Joachin, 29, was detained under two European arrest warrants, one citing his alleged links to a terrorist organization, and a second for allegedly kidnapping his 3-year-old son and smuggling him out of the country, said Darina Slavova, regional prosecutor of the southern province of Haskovo.
Joachin, a French citizen of Haitian origin, "was in contact several times" with Chérif Kouachi," Slavova told news agency AFP. She said the contact took place before Joachin left France on Dec. 30, a week before the Hebdo attack.
Some 17 people were killed during three days of terror in France, triggered by the Hebdo attack Wednesday, which killed 12. A policewoman was gunned down on Thursday before four people were shot dead in a kosher supermarket in eastern Paris on Friday, allegedly by Amedy Coulibaly, 32, who was killed during a standoff against police. Chérif Kouachi, 32, and his brother, Said, 34, were shot dead by security forces in a town north of Paris the same day.
The Charlie Hebdo attackers had shouted that their mission was to avenge the newspaper's publication of what they said were denigrating cartoons about Islam.
On Friday morning, only hours before his death, Coulibaly told BFM television that he had coordinated his attacks with the Kouachi brothers. He claimed to be a member of Islamic State, the extremist organization that has taken over large parts of Syria and Iraq. Chérif Kouachi, in a separate interview, said the attacks were planned and financed by Al-Qaeda in Yemen.
USA Today