Venezuela supermarket lines swell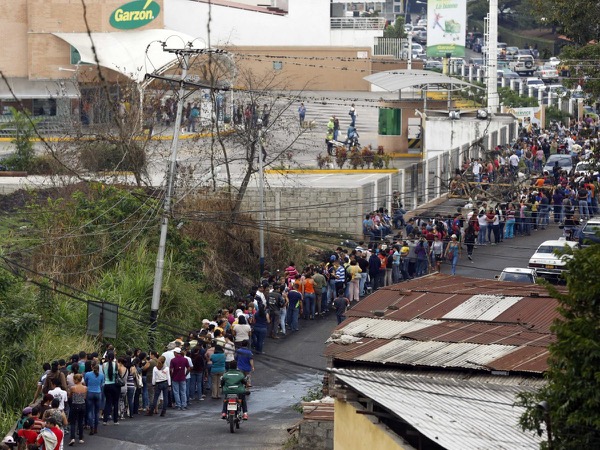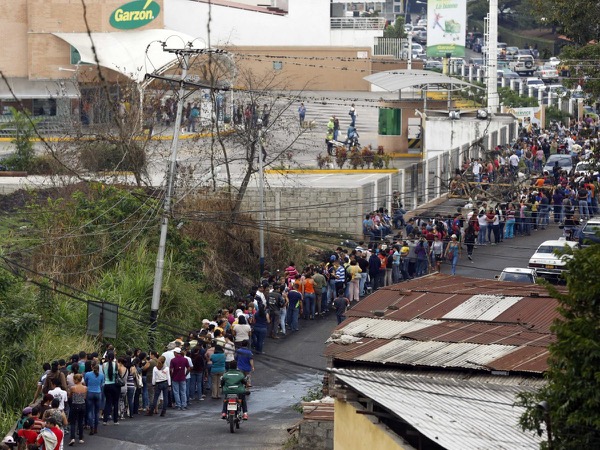 Lines are swelling at Venezuelan supermarkets, with some shoppers showing up before dawn in search of products ranging from chicken to laundry detergent, as a holiday slowdown in deliveries sharpened the nation's nagging product shortages.
Queues snaked around the block at grocery stores and pharmacies around the country on Friday, with consumers in some cases gathering before dawn under the gaze of National Guard troops posted to maintain order.
Business leaders have assured Venezuelans the situation will improve in the coming days as distributors return from the often extended Christmas holidays, though many consumers blamed the socialist economic policies of President Nicolas Maduro.
"The truth is I don't know what the government is doing. It gets worse every day," said Elizio Velez, 65, a delivery man who arrived at 5 a.m. at a large supermarket on the east end of Caracas in search of chicken and toilet paper.
"This is insane, it's like the end of the world," he said, noting that troops had fired shots in the air as scuffles broke out in the line.
Venezuela's 12-year-old exchange control system has for several years struggled to provide enough hard currency to ensure adequate levels of imports, leading to intermittent shortages of raw materials, machine parts and consumer goods.
Maduro, who blames the situation on an opposition-led "economic war," said in December he was planning to make changes to that system, without offering details.
Grocery store lines in the border city of San Cristobal this week have started as early as 3 a.m. and continued until 10 p.m., while consumers in the coastal city of Punto Fijo have started sleeping in hammocks outside the main shopping mall.
"I look for everything, at whatever price I can find it. Since December I've been hunting for toilet paper because in my house we don't have any," said Giovanny Chacon, a resident of San Cristobal. "We spent Christmas and the New Year without toilet paper."
The supermarket industry association did not immediately respond to requests for comment, although the group's president this week said supplies should normalize by the third week of the month.
Food Minister Carlos Osorio has acknowledged distribution problems, but he urged citizens not to be confused by "campaigns that seek to destabilize." On Thursday he visited a branch of a state-run store to show packed shelves.
Economists believe Maduro's economic reforms will include a devaluation of the bolivar currency, which makes imported goods more expensive and has historically pushed the inflation rate higher.
Consumer prices rose 64 percent in the 12 months to November.
Reuters