A young Muslim hailed as a hero for saving Jewish lives in Paris siege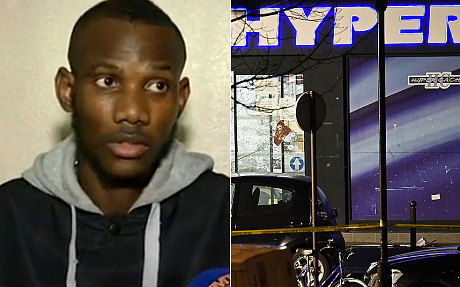 A YOUNG Muslim who helped to save Jewish lives during a siege in Paris was hailed a hero yesterday.
Details emerged of dramatic events that unfolded after Amedy Coulibaly stormed the store, killing four people inside before dying in a shoot-out with police.
Lassana Bathily, 24, a Malian who went to school in Paris, told a French TV station how he led the group of shoppers into the cold store.
"I told them to calm down, not to make a sound, because if they heard us they could come and take us," Mr Bathily said. He then turned off the lights and fridges.
After about 10 minutes, the petrified shoppers heard a noise outside. It was a female cashier, who said Coulibaly had seen them fleeing downstairs and warned of "carnage" if they did not return.
"She said they were asking everyone to go upstairs and that if they found anyone here they would kill them," Mr Bathily said.
While some of the shoppers sought refuge in a locked cool room, others complied with the killer's demand — among them a man named by the French media as Mickael B.
Back upstairs, Mickael found Coulibaly pacing the store, ranting to the hostages about "Palestine, French prisons, his brothers in Syria and many other things".
Coulibaly stopped to make himself a sandwich and one of the customers made a grab for a gun that he had left on the counter.
But the would-be hero was unaware Coulibaly had left it there because its shooting mechanism had blocked. "He turned and shot at the customer, who died on the spot," Mickael said.
Coulibaly, who had pledged ­allegiance to Islamic State, then gave a radio interview by telephone, but failed to hang up properly, enabling the radio station to continue taping his words.
He complained to his hostages about the West's intervention in Iraq, Syria and Mali, saying: "If there hadn't been attacks elsewhere, I wouldn't be here."
Coulibaly also blamed the hostages for paying taxes that went ­towards suppressing Muslims.
When one hostage countered that paying taxes was compulsory, Coulibaly replied: "You don't have to, I don't pay mine."
He added: "They've got to stop putting our brothers in prison for nothing at all."
Bathily's Facebook page was flooded with tributes to his bravery. "Bravo," said Abdoul Bathily, who described himself as the shop worker's cousin. "You have proven you have courage and done something people over the world wouldn't have done."
Others called for him to be given the French medal of honour, saying he was an "incredibly brave man".
There were also tributes to the victims — Yoav Hattab, 21, Yohan Cohen, 22, Philippe Braham, 40, and Francois-Michel Saada, 60.
It was not clear which of them had grabbed the gun.
A friend of Mr Hattab, a Tunis­ian student and electronics salesman whose father is rabbi of the grand synagogue in Tunis, said: "I'll tell the whole world of your gentleness and purity."
Mr Cohen, a former employee of the Hyper Cacher supermarket, was described by Francois Pup­poni, the Deputy Mayor of Sarc­elles, in Paris's north, where he was born, as a "nice boy".
He added: "This is a tragedy that affects all the city and the Jewish community."
Cohen's girlfriend, Sharon Seb, changed the words on her Facebook profile picture to read: "Je suis Yohan. (I am Yohan)"
The family of Ahmed Merabet, the policeman shot dead outside the offices ofCharlie Hebdo on Wednesday, appealed for calm.
"Stop burning mosques or burning synagogues, because you are attacking people," said his brother, Philippe.
"It won't bring back the dead and it won't comfort the families."