2 Syrians dead in Lebanon as snowstorm batters Mideast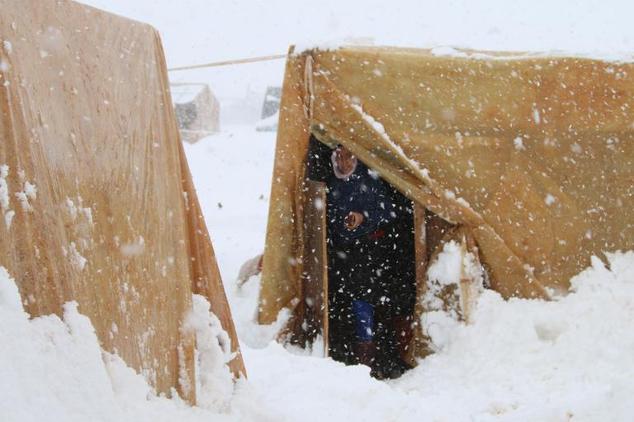 A Syrian man and a young boy died in Lebanon as a rare snowstorm Wednesday battered parts of the Middle East, adding to the misery of war refugees from Syria.
The bodies of the two Syrians, including the six-year-old boy, were found in the Shebaa region of south Lebanon, the Red Cross said.
A security source told AFP they were refugees crossing the mountainous border between Syria and Lebanon, where temperatures plunged as low as minus 7 degrees Celsius (20 Fahrenheit).
State National News Agency reported a third person had died in the mountains apparently of exposure, but there was no immediate confirmation as a Red Cross source said heavy snow was hampering search operations.
The deaths came as a major storm struck the Middle East, hitting Syrian refugees living in makeshift camps in Lebanon, Jordan and Iraq.
Many refugees in Lebanon were trapped in their tents by snow, struggling to stay warm in temperatures hovering around zero degrees.
The UN's refugee agency distributed cash and fuel coupons to over 80,000 refugee families ahead of the storm, which forced the closure of all Lebanese ports and briefly shut Beirut's international airport. Schools stayed closed Wednesday.
In Majdalun, close to the eastern town of Baalbek, around 40 tents were cut off from surrounding villages by a thick layer of snow, an AFP photographer said.
"There is a lack of food and heating materials," said one man who stepped out of his tent.
"We are asking charities to intervene. We're scared the tents will collapse under the weight of the snow."
Heavy snowfall also cut several roads in mountainous areas of Lebanon, where more than a million Syrians fleeing civil war have sought refuge.
"I've been a refugee here for two years but this is the worst winter I've seen," said Mohammad al-Hussein, who lives in an east Lebanon camp with his wife and five children.
– Schools closed –
"We feel humiliated," he added.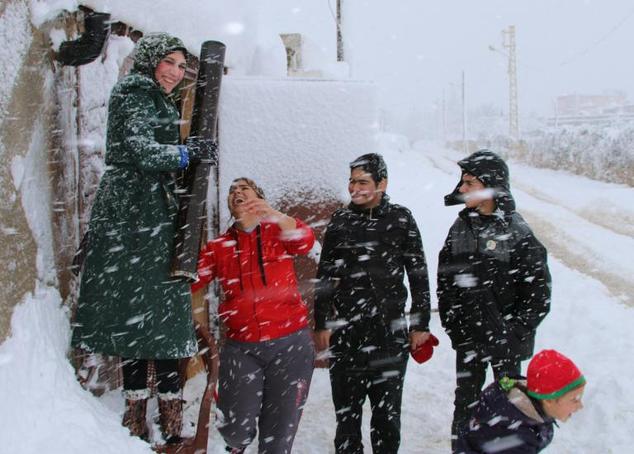 In Jordan, the UN children's fund, UNICEF, said it would provide assistance to more than 40,000 Syrian children in two refugee camps.
"It is imperative to ensure that children are protected from the harsh weather conditions," UNICEF representative Robert Jenkins said.
And the International Federation of Red Cross and Red Crescent Societies announced an emergency winter appeal of $19 million (16 million) for Syrian refugees in Iraq.
In Israel and the Palestinian Territories, hundreds of schools were closed.
Across Jerusalem, streets were largely deserted and few people ventured out to brave the high winds and intermittent rain, AFP correspondents said.
Snow began falling shortly after midday, sending the last remaining shoppers scurrying back home as driving sleet, thunder and lightning set in.
Lightning also struck the control tower at Ben Gurion airport near Tel Aviv, officials said. The tower immediately moved to its backup system, causing only a slight delay to flights.
By mid-afternoon, around 9,000 homes across Israel were left without power, army radio said, largely due to trees falling onto power lines due to gale force winds.
Bulldozers were put on standby in Jerusalem ready to clear roads of snow.
Streets across the West Bank city of Ramallah, which stands at 2,861 feet (872 metres) above sea level, were also deserted as people hunkered down ahead of the storm, an AFP correspondent said.
– Syria, Egypt affected –
The impoverished Gaza Strip, devastated during a July-August war with Israel, also battened down the hatches.
The normally jammed streets of Gaza City were largely empty and many shops closed.
Tens of thousands of Palestinians who had their homes destroyed in the 50-day war are still without permanent shelter and the UN distributed extra food and generators to try to ease chronic electricity shortages.
In Syria, schools were closed and many government officials unable to make their way to work through the snowy streets of Damascus.
State news agency SANA said snow and rain fell Wednesday in most provinces of the war-ravaged nation.
Authorities in Egypt shut ports in Alexandria on the Mediterranean and on the Red Sea coast.
Daily Mail