Serge Hochar of Chateau Musar dies on New Year's Eve
Lebanese wine industry legend Serge Hochar has died at the age of 74 due to a swimming accident in Mexico on New Year's Eve. Serge leaves his wife and two sons: Gaston who has been in charge of the day-to-day running of Château Musar for some years, and his brother Marc in charge of commercial aspects.
Hochar, owner of the country's iconic Chateau Musar winery, is reported to have died in a swimming accident while on holiday in Mexico on New Year's Eve. Under Serge Hochar's watch the winery became world famous for its wines made from Bordeaux grapes grown principally in the Bakaa Valley. Hochar was renowned for his resilience in continuing to produce vintages of Chateau Musar through war in Lebanon in the 1970s and 1980s, growing export sales as its domestic market suffered.
Paying tribute to Serge, Bartholomew Broadbent, son of Michael and long-term US agent for Musar, said: "Words cannot express my sadness at the passing of Serge Hochar yesterday. He was like my second father. He was the greatest and most interesting person I have ever met. His wine, Chateau Musar, has always been my favorite wine, since I first tasted it in 1979. Serge was a mentor, the greatest philosopher, a warm, sincere, loving and caring gentleman. My heart goes out to his family. Rest in peace my dear friend. Your spirit will live on in all of us forever."
Jancis Robinson, known as 'the most respected wine critic and journalist in the world', also paid tribute to Serge: "Serge was so much more than a winemaker and the driving force behind Lebanon's best-known winery. He had a strong spiritual character, but was very far from ascetic – positively impish in fact. Always great fun, he gave the impression of having a deep understanding of human nature and of understanding much more than superficialities."
Château Musar's distinctive "recipe" for its red wine was developed by Hochar in the 1970s, blending Cabernet Sauvignon with the warm-climate varieties Cinsault and Carignan from vineyards mainly in the Bekaa Valley. He also created a white wine from local grape varieties, grown at high altitude, and a further range of wines under the Hochar label.
A rich history of award winning wines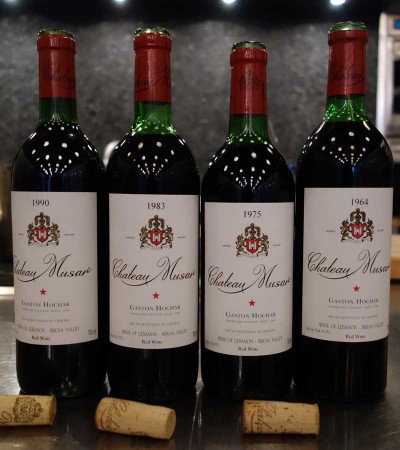 Bordeaux-educated Hochar took over running of the winery in 1959 from his father Gaston who had established it in 1930.
After studying under the famous oenologist Emile Peynaud in Bordeaux, Serge took over his father's winery in 1959 and spent the next 18 years developing the highly distinctive, often divisive but certainly long-lived Musar wine style.
Until Lebanon's civil war in 1975, Musar's wine was mainly sold locally, but as local markets disappeared Serge Hochar and his brother Ronald, in charge of sales, looked for export markets.
When Lebanon descended into Civil War between 1975 and 1990, Serge famously continued transporting his grapes through army checkpoints on the long drive from Musar's vineyards in the Bekaa Valley to the family winery just north of Beirut.
It was in 1979 at the Bristol Wine Fair in England that Michael Broadbent MW of Christie's discovered Musar 1967 and declared that it was his "find of the fair". It marked the start of the wine's worldwide success. Five years later Serge Hochar was Decanter Magazine's first "Man of the Year." By the end of the war, the vast majority of Musar's production was being exported across the UK, Europe and US.
Beyond his role at Musar and in promoting the wider Lebanese wine industry, Serge was a loyal supporter of Catholic humanitarian aid organization the Order of Malta.
Hochar's winemaking style was known to be non-interventionist, something that has attracted its mixture of fans and critics. However, never in doubt was Hochar's courage in harvesting his grapes and making wine throughout the hostilities in Lebanon, losing only one vintage entirely, the 1976.
In an interview with Wine Searcher last year, Hochar stated that his biggest concern was global warming, saying that in his 55 vintages he had witnessed harvest dates move from mid-September to mid-August. He said:
"This is worrying. It is my main concern. I intend to develop new vineyards at higher altitudes. But I cannot yet assess exactly what will be the outcome."
In the same interview he was asked what was his happiest moment. He answered:
"It was to be born. Because I did not want to come out. The doctor had to use forceps. He made two holes in my brain. This is why I came out as a crazy guy."
The Drinks Business, Offlicense, Wine Searcher