Saudi King Abdullah hospitalized for medical tests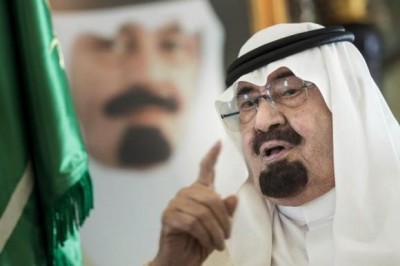 Saudi Arabia's 90-year-old monarch, King Abdullah, was hospitalized Wednesday for medical tests, the state news agency reported.
For many months, Abdullah's apparently failing health has put a spotlight on leadership questions in the U.S.-allied kingdom. Oil-rich Saudi Arabia, the main Sunni Muslim power in the Persian Gulf region, is a major partner in the American-led military coalition confronting the Sunni militants of the Islamic State, who have seized large parts of Syria and Iraq.0
The royal palace said in a statement carried by the official Saudi Press Agency that the king was admitted to King Abdulaziz Medical Center in the capital, Riyadh, for undisclosed "medical checks." No other details were provided.
Abdullah, who was reported to have undergone back surgery in 2011 and again in 2012, is rarely seen in public. Earlier this year, he was photographed seated in a wheelchair, breathing with the help of an oxygen tube.
The king has a designated successor, his 77-year-old half-brother Crown Prince Salman. But any leadership shakeup, with attendant behind-the-throne battles for influence, would come at a delicate time. Tensions between Saudi Arabia and its Shiite Muslim arch-rival, Iran, have helped fuel sectarian conflicts across the region.
Abdullah ascended the throne in 2005, but by then, he had already been the kingdom's de facto ruler for a decade, a status he assumed after his predecessor, King Fahd, suffered a debilitating stroke in 1995. Salman, in turn, has already taken on many of Abdullah's official and public duties, including representing him at a Persian Gulf summit in early December in Qatar.
LA Times