Libya airstrikes hit Misrata militants for first time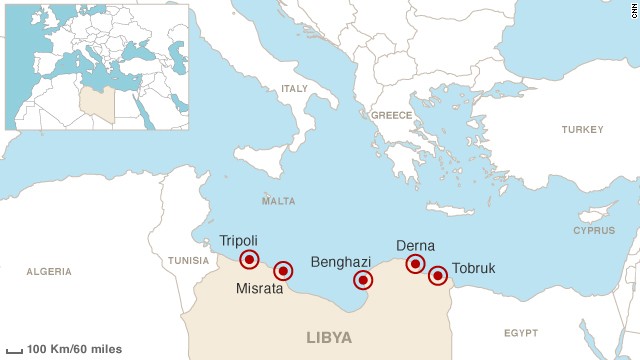 Libya's air force has struck the western city of Misrata for the first time in the latest clash between government and militant forces.
A Misrata source confirmed the strikes to the BBC, adding that there were no casualties or material damage.
The airstrikes come after a 72-hour ultimatum issued by the air force to militants based in Misrata.
Militants had been attacking the oil ports of Sidra and Ras Lanuf in East Libya.
Militants were "still in high spirits, and [the] bombings will not affect our resolve," the Misrata official told the BBC,
Fighting on the increase
Libya has been plagued by instability and infighting since the toppling of Colonel Muammar Gaddafi in 2011, and violence has been steadily increasing in recent months.
An attack on a power plant in the Libyan city of Sirte on 25 December left at least 19 soldiers dead.
Libyan military sources said the Libya Dawn movement, based in western Libya, was responsible for the attack.
In a separate incident, an oil tank at Libya's largest oil export terminal in Sidra caught fire when it was struck by a rocket during fighting on Saturday.
That attack, and the fight for control of Ras Lanuf, prompted the air force to issue its ultimatum.
Rival groups now control most of the country including the two largest cities, Tripoli and Benghazi.
Islamist-leaning militias, some of them remnants of forces which helped oust Gaddafi, have taken power in western Libya.
These groups have attempted to reinstate Libya's previous parliament and appoint a parallel government, but this has not been recognised internationally.
The country's recognised parliament and government have been forced to move to eastern Libya.
BBC