Tunisians vote in historic presidential run-off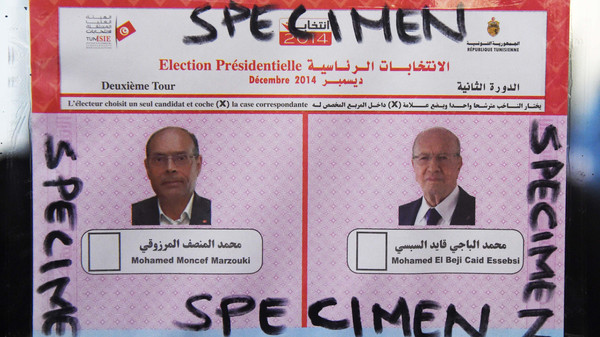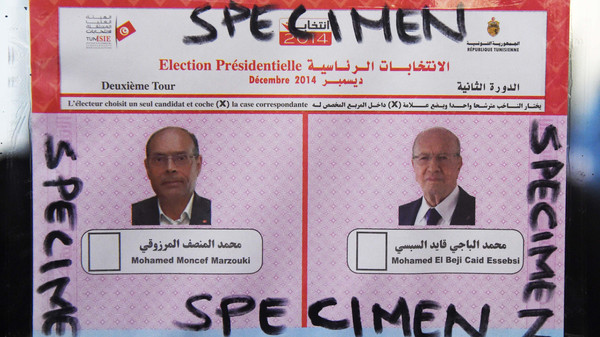 Tunisians voted on Sunday in a presidential run-off election that completes the country's transition to full democracy nearly four years after an uprising which ousted autocrat Zine El-Abidine Ben Ali.
With a new progressive constitution and a full parliament elected in October, Tunisia is hailed as an example of democratic change for a region still struggling with the aftermath of the 2011 Arab Spring revolts.
The North African nation avoided the bitter post-revolt divisions troubling Libya and Egypt, but Sunday's election pits a former Ben Ali official against an incumbent who claims to defend the legacy of the 2011 revolution.
Frontrunner Beji Caid Essebsi, a former parliament speaker under Ben Ali, won 39 percent of votes in the first round of voting in November with current president Moncef Marzouki winning 33 percent.
Polling opened at 8 a.m. local time (0700 GMT) with a heavy security presence but morning turnout looked thin at stations around the capital. Official preliminary results were not expected until Monday.
Overnight one gunman was killed and three arrested after they opened fire on a polling station in the central Kairouan governorate, a defence ministry official said.
Essebsi, 88, dismisses critics who say he would mark a return of the old regime stalwarts. He says he is the technocrat Tunisia needs after three messy years of an Islamist-led coalition government.
Marzouki, 69, is a former activist who once sought refuge in France during the Ben Ali era. He has painted an Essebsi presidency as a setback for the "Jasmine Revolution" that forced the former leader to flee into exile.
"We need a president who looks after the people and is not interested only in power," said Ibrahim Ktiti, an electrician who voted in the poor Ettadhamen neighbourhood of Tunis. "The old regime won't make it back. Essebsi never excused himself for all the time he was with Ben Ali."
Yet many Tunisians tie Marzouki's own presidency to the Islamist party's government and the mistakes opponents said it made in controlling the influence of hardline Islamists in one of the Arab world's most secular countries.
"I'm voting for Beji, the others did nothing for us during three years," said Zohra Zagoumi, a housewife with three unemployed children, voting in the Manouba district of the capital. "We need jobs, security and cheaper cost of living."
Compromise has been important in Tunisian politics. Essebsi's Nidaa Tounes party reached a deal with the Islamist Ennahda party to overcome a crisis triggered by the murder of two secular leaders last year.
Ennahda stepped down at the start of this year to make way for a technocrat transitional cabinet until elections. But the Islamists remain a powerful force after winning the second largest number of seats in the new parliament.
Essebsi appeals to the more secular, liberal sections of Tunisian society, while analysts expect Marzouki to draw on support from more conservative rural areas, and from some members of Ennahda, which did not field a candidate.
The presidency post holds only limited powers over national defense and foreign policy. The parliament, led by Nidaa Tounes which won the most seats, will be key to selecting a prime minister to lead the government.
Endorsements
Hamma Hammami, leader of Popular Front declared on Tuesday his party's position for the second round of presidential candidates in an interview with radio station Mosaique FM. Hammami reiterated his party's disagreement with Marzouki, calling for Popular Front supporters either to vote for Essebsi or vote blank.
Similarly the head of the country's Jewish community endorsed the campaign of secularist hopeful Beji Caid Essebsi. Joseph Roger Bismuth, president of the Jewish Community of Tunisia, or CJT, gave Essebsi his support in an interview published Thursday by the news site AfricanManager.com ahead of the December 21 vote.
About 1,700 Jews live in Tunisia, according to the European Jewish congress. The country reportedly used to have more than 100,000 Jews.
Reuters/ agencies