Russian Prosecutors to Seek 10-Year Sentence for Putin Critic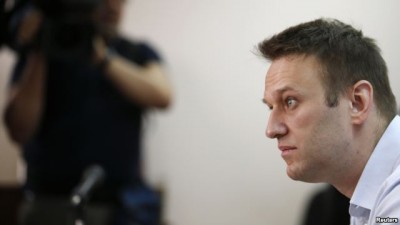 Prosecutors on Friday said they would seek a ten-year prison sentence for Aleksei A. Navalny, Russia's most prominent critic of President Vladimir V. Putin, on embezzlement charges that critics say are intended to crush the opposition.
At a courtroom in central Moscow, prosecutors accused Mr. Navalny and his brother, Oleg, of stealing almost $500,000 from two firms, one of which is an affiliate of the French cosmetics company Yves Rocher. Prosecutors requested an eight-year sentence for Oleg Navalny.
Local reporters described the men as "in shock" after hearing about the length of the requested prison terms. Aleksei Navalny denied any guilt and also cited testimony from Yves Rocher employees who said that no crime had been committed.
Mr. Navalny became a prominent opposition figure after exposing corrupt deals in government companies, including contracting fraud at the state pipeline operator Transneft that he said cost the company $4 billion.
He became one of the leaders of the so-called white ribbon protest movement, which emerged after elections in December 2011 that were widely thought to be fraudulent. It petered out in summer 2012.
Mr. Navalny ran for mayor of Moscow last year, and he won 27.2 percent of the vote. It was more than expected for an opposition candidate, but not enough to force a runoff.
Mr. Navalny also became a magnet for criminal investigations. Last year, he was convicted and sentenced to five years in prison, quickly commuted to a suspended sentence, in a separate embezzlement case. He has been confined to his apartment in Moscow under house arrest since February.
Prosecutors on Wednesday requested nine years in prison for the Yves Rocher case. In addition, they said, Mr. Navalny should serve another year in prison for the remaining term from his previous conviction.
Russia has increased pressure on the opposition since the beginning of the conflict in Ukraine this year. At an annual news conference on Thursday, a journalist confronted Mr. Putin for using the term "fifth column" in public speeches in order to discredit the opposition.
"I was trying to unite society, not divide it," Mr. Putin said.
NY Times