Lebanon Agriculture Minister calls for legalization of cannabis farming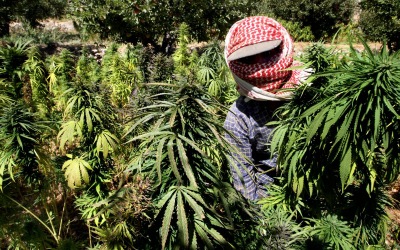 Agriculture Minister Akram Chehayeb, who represents Progressive Socialist Party leader MP Walid Jumblatt in the cabinet called Friday for the legalization of cannabis farming to allow the state to benefit from its export revenue.
"We are conducting studies on how to administer this type of agriculture to allow the state to buy the harvest and export it to the countries that need it," Chehayeb said during an interview with a local radio station.
"This agricultural product is in demand worldwide for pharmaceutical production." He stressed
Chehayeb said the state should end its war on cannabis farmers and find workable alternatives.
"Instead of prosecuting the farmers, let's find other solutions for them," he said. "The planting of cannabis must be organized to benefit the state and the industrial sector, and it is one way of helping the farmers."
For many poor villages in east Lebanon, the cultivation of cannabis and sale of marijuana has for decades been the primary source of revenue.
Upon pressure by international donors and foreign states, Lebanon launched a crackdown on the farmers after the end of the Civil War.
The government then attempted to implement alternative agriculture projects to encourage the farmers to grow fruits and vegetables instead.
However, the projects had little impact on the local farmers, who attempt to go back to planting cannabis whenever they have a chance.
Chehayeb's remark come after Jumblatt called on Dec 14 in a "joint statement" on Twitter for the cultivation of marijuana to be legalized.
"It's time to allow hash to be grown and to overturn arrest warrants against people sought for doing so," the veteran politician wrote in Arabic on his Twitter account.
Jumblatt is the highest ranking Lebanese official to publicly support the call to legalise marijuana in Lebanon.
"Never in my life have I smoked marijuana, but I support growing cannabis for medical use and to improve the living conditions of farmers in north Lebanon and the Bekaa Valley," Jumblatt told Al-Jadeed television on Dec 15.
The marijuana industry generated hundreds of millions of dollars during the country's 1975-1990 civil war.
According to cannabis growers in Lebanon, the conflict in Syria has turned the state's attention away from the problem at home and boosted traffic with the border now less secure.
Farmers say demand has risen by more than 50 percent since 2012, the year after civil war erupted in Syria, with most of Lebanon's hashish going there.