Profile of the Sydney siege gunman Man Haron Monis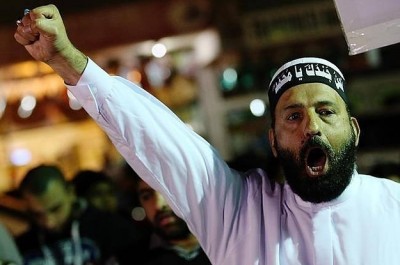 The self-styled sheikh behind a siege at a Sydney café had been charged as an accessory to murder and with multiple sexual offences. He also harboured deep grievances against the Australian government and had found little kinship in the city's large Muslim community, where he was seen as deeply troubled.
Man Haron Monis, an Iranian refugee described by those who knew him as a loner, was killed early on Tuesday after heavily armed police stormed the Lindt Chocolate café to end a 16-hour hostage drama that made global headlines. Two hostages were killed — Katrina Dawson was a 38-year-old lawyer and mother of three, while Tori Johnson, 34, was the café manager.
Last year, Monis was charged as an accessory to the stabbing murder of his ex-wife, who was set alight in a Sydney apartment block in April 2013. The Sydney Morning Herald reported that his current partner was charged with the murder of his ex-wife.
He was charged this year with more than 40 counts of sexual or indecent assault against women in Sydney, according to court documents. The Morning Herald reported that Monis had billed himself as a "spiritual adviser," and that the alleged incidents occurred during sessions with women who visited his house.
He was also found guilty in 2012 of sending threatening letters to the families of eight Australian soldiers killed in Afghanistan and sentenced to two years in prison, although he served only a portion of that penalty.
Those charges and the conviction, as well as public statements Monis made on his website, have raised questions in Australian media about whether authorities should have done more to monitor him.
Prime Minister Tony Abbott told reporters that Monis was well known to police, but was not on a terror watch list to the best of his knowledge.
New South Wales state Premier Mike Baird was also left puzzled as to why Monis was free.
"We're all outraged that this guy was on the street," said Baird. "We need to understand why"
Monis's website, now taken down by authorities, paints a picture of a man unravelling, enraged by Australian courts and by perceived injustices against Muslims in Iraq and Afghanistan.
"Man Haron Monis … has continuously been under attack & false accusation by the Australian government & media since he started his political letter campaign from 2007," Monis wrote on the website.
He also railed against what he said was a decision by a court to prevent him from seeing his children.
"His children have been taken away from him by the Australian government and he is not allowed to visit or even call them," Monis wrote.
'No affiliations with any group,' lawyer claims

Sydney-based criminal defence lawyer Adam Houda, who represented Monis over the letters sent to the soldiers' families, described him as a deeply unsettled loner, wholly apart from Sydney's tight-knit Muslim community.
"He was a very, very, very unusual guy and he had no affiliations with any group. He operated alone. He was a lone wolf," Houda told Reuters.
A source close to Sydney-based Islamists, speaking on the condition of anonymity, said Monis did not belong to any local radical group and that leading figures held him in contempt.
Monis left Iran in the late 1990s after coming into conflict with authorities there, said lawyer Manny Conditsis, who represented him in the murder case.
After receiving asylum in Australia in 2001, Monis obsessed about exposing violence against Muslim civilians abroad, Conditsis told Reuters.
Monis' website shows graphic images of children that he says were killed by U.S.-led coalition air strikes, as well as media coverage following his court appearances and statements addressed to the Muslim community and Abbott.
Prison may have left deep scars

He compared himself to Australian Julian Assange, the Wikileaks founder, saying he was being persecuted for his political beliefs.
"Since the Australian government cannot tolerate Sheikh Haron's activity, (it) is trying to damage his image by these false accusations," he wrote.
While in prison Monis claims he was tortured, smeared with excrement and forced to sleep on a bare concrete floor, Conditsis said.
"I know that left quite deep scars for him," he said.
"If he had formed the view prior to this siege that he was going to inevitably go back to prison, whether he was guilty or not … I can see that might have unhinged him."
Despite the warning signs, police must focus limited resources on groups attempting to pull off major terrorist attacks, said Greg Barton, director of the Global Terrorism Research Centre at Monash University in Melbourne.
There are only a tiny category of people at any given time police can legally and financially justify keeping under surveillance and Monis did not qualify, he said.
"On the triage priority list, he would be well down that list," Barton said.
"I don't think it's a case of a failure or a mistake. I just think it's a case of the harsh reality of dealing with this kind of threat."
Reuters