About 30 hostages being held in Sydney, Australia cafe, update
More than two dozen hostages are reportedly being held inside a central Sydney, Australia cafe where a black flag with white Arabic writing could be seen in the window, local television showed on Monday, raising fears of an attack linked to Islamist militants.
Live television footage showed patrons inside the Lindt Chocolate Café in Martin Place standing with their hands pressed against the windows. A black-and-white flag similar to those used by Islamic State militants in Iraq and Syria was also visible.
A police spokeswoman said no injuries had been reported from the incident. Heavily armed officers were lined up outside the cafe, and a man with a backpack inside the cafe could be seen walking back and forth in front of the glass doors.
"We don't know if this is politically motivated, although there are some indications it could be," Australian Prime Minister Tony Abbott told reporters at a news conference. "The point of politically motivated violence is to scare people out of being themselves … I would urge all Australians today to go about their business."
Part of Martin Place, home to the Reserve Bank of Australia, commercial banks and close to the New South Wales (NSW) state parliament, was closed off by armed police.
"Specialist officers are attempting to make contact with those inside," New South Wales Police said in a statement on the force's official Facebook page.
Prime Minister Stephen Harper tweeted that Canadians' thoughts and prayers are with those in Australia.
Sky Business quoted Lindt Australia CEO Steve Loane as saying there were "probably 30 customers" in the cafe.
Abbott said he was being briefed by New South Wales Police and Australian Federal Police, and would leave it to them to provide operational details as they become available.
"The normal operation of business must go on," Abbott said. "Our thoughts and prayers must above all go out to the individuals who are caught up in this."
Zain Ali, the head of the Islamic Studies Research Unit at the University of Auckland, said it was difficult to read the message on the banner because media images showed only the lower part of the flag. But he believed it was the Shahada, or declaration of faith, largely because a black flag with white writing in a contemporary context often contains that message. He said he could make out the word "Muhammad."
Ali said the Shahada translates as "There is no deity of worship except God [Allah], and Muhammad is the messenger of God." It is considered the first pillar of Islam's five pillars of faith, and has been used by groups like al-Qaeda and ISIS jihadists but wasn't invented by them, Ali said.
SWAT team on site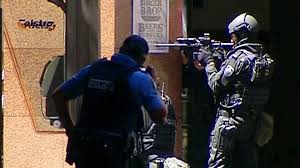 Dozens of police including a SWAT team were setting up and a couple of hundred people were being held back by cordons.
Trains and buses were stopped and roads were blocked in the area, with train operators saying there had been a bomb threat at Martin Place. Airspace over the area has also been closed.
Staff at the Reserve Bank of Australia (RBA) are safe and accounted for, a spokeswoman said. The RBA headquarters in Martin Place was locked down with everyone safe inside.
An Australian Broadcasting Corporation reporter said gunfire had been heard at the scene, the BBC reported, but this has not been confirmed. Major landmarks in the city such as the Sydney Opera House have been evacuated.
U.S. consulate issues warning

The U.S. consulate issued a statement warning its citizens "of a security incident involving at least one armed person at Lindt Chocolate Café in Martin Place in Sydney. New South Wales and Australian Federal police are addressing the threat. Please avoid the area around Martin Place until further notice."
Daily Mail Australia reported that just moments before the hostage situation at Martin Place began, police announced the arrest of a 25-year-old man from north-western Sydney as part of a major counter-terrorism investigation.
The Australian Federal Police apprehended the terror suspect at a home in Beecroft in Sydney's leafy north-western suburbs this morning. Seven News identified the arrested man as Ali Al Talibi, but police would not confirm this information to Daily Mail Australia.
A NSW police spokeswoman said at the moment there was nothing to indicate a link between the two events.
Australia, which is backing the United States and its escalating action against Islamic State in Syria and Iraq, is on high alert for attacks by radicalized Muslims or by home-grown fighters returning from fighting in the Middle East.
CBC. CA
Update 1
: The Grand Mufti of Australia has issued a statement in which he condemns the siege in Martin Place.
"The Grand Mufti and the Australian National Imams Council condemn this criminal act unequivocally and reiterate that such actions are denounced in part and in whole in Islam.
"His Eminence the Grand Mufti, the Australian National Imams Council and the Muslim community express their full support and solidarity with their victims and their families and aspire to a peaceful resolve to this calamity."
2-
Lindt has issued a statement on the siege at its cafe in Sydney via its Facebook page.
"We would like to thank everyone for their thoughts and kind support over the current situation at the Lindt Chocolate Café at Martin Place. We are deeply concerned over this serious incident and our thoughts and prayers are with the staff and customers involved and all their friends and families."