Scared of expansionist Russia ,Baltic states spend big on defence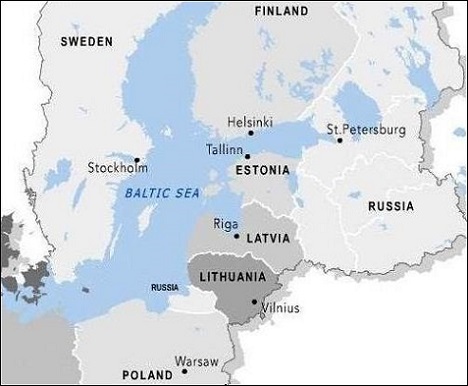 Russia's meddling in Ukraine has delivered a wake-up call on defence spending to small Baltic states which spent half a century under Soviet occupation and now fear the Kremlin's territorial ambitions.
Estonia, Latvia and Lithuania are on heightened alert as Russian military planes and warships skirt their airspace and sea borders on a daily basis in what they call "unprecedented" Russian activity.
Nato said its Baltic air patrol intercepted more than 30 Russian aircraft on Monday alone over the Baltic Sea and off the coast of Norway.
That same day Lithuania put its military on higher alert after 22 Russian warships were spotted in the Baltic Sea, including a heavily-armed corvette within three miles of Latvia's sea border.
"The current security situation will stay with us for a long period of time. This is not just bad weather, this is climate change," said Taavi Roivas, Estonian Prime Minister.
The Baltics escaped Soviet clutches and regained their independence in 1991, before joining the European Union and Nato in 2004 to cement their Western orientation.
All three have welcomed assurances from their Nato allies that any aggression against them will be regarded as an attack on the Atlantic defence alliance as a whole.
"Nato's presence in the Baltic region must continue and increase," Mr Roivas stressed this week in the US, where he was meeting defence companies about future deals.
Baltic forces on their own stand no chance of seeing off a full-scale Russian attack for long. But their ability to fend off Moscow until Nato could scramble a broader response is decisive, analysts say.
"If the Baltic states are attacked, there will be a certain response time before Nato allies react," said Aleksandras Matonis, Lithuanian defence analyst .
"The first wave of aggression must be met and repelled by (Baltic) countries using their own defence capacities."
The Baltics have thus made big-ticket military purchases and upped their defence budgets since Moscow annexed the Ukrainian peninsula of Crimea and offered support for rebels in eastern Ukraine.
Sven Mikser, Estonian defence minister, on Tuesday sealed the biggest military procurement in his country's history, worth 138 million euros (£110 million).
The deal sees the nation of 1.3 million people buy 44 CV90 combat vehicles and six Leopard tanks from the Netherlands.
It comes a month after Mikser agreed a contract worth 40 million euros with the US to buy 40 Stinger missile systems.
Estonia also has an order for self-propelled guns in the works, he told AFP.
Latvia meanwhile bought 123 combat vehicles for 48 million euros from Britain in August and in November agreed to a four-million-euro deal with Norway for 800 Carl Gustav anti-tank weapons, plus 100 trucks.
Lithuania for its part bought a 34-million-euro GROM air defence system from Poland in September and a month later said it would spend 16 million euros on a fresh supply of Javelin anti-tank missiles from the US.
That brings the total Baltic military spending on hardware to 300 million euros in six months.
Politicians have "significantly changed" their defence spending rhetoric because of Russia's aggression in Ukraine, defence expert Kristine Rudzite-Stejskala wrote in a report for the Latvian Institute for International Affairs.
Estonia – one of only a handful Nato members that actually meet the grouping's two-percent-of-GDP rule – plans to raise its defence budget to 2.05 percent.
Lithuania plans to raise its budget next year to 1.1 percent from 0.89, while Latvia intends no less than one percent after its current 0.91 percent.
But the amount the Baltics can spend on defence – 1.2 billion euros combined in 2014 – pales in comparison to Russia's 60 billion euros, or 3.4 percent of GDP.
The Daily Telegraph