Tensions soar in West Bank after death of Ziad Abu Ein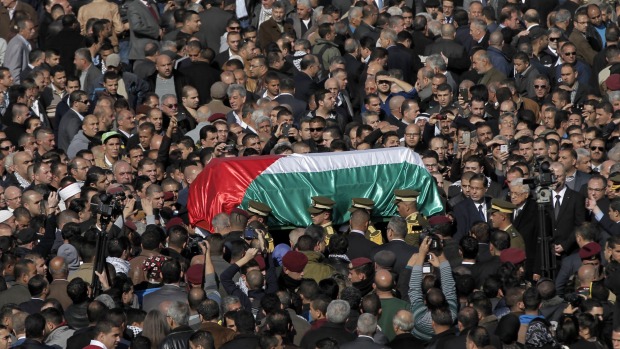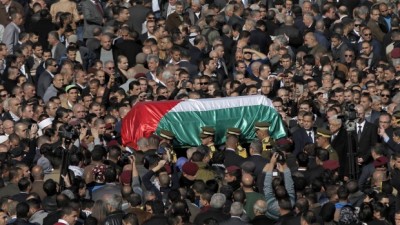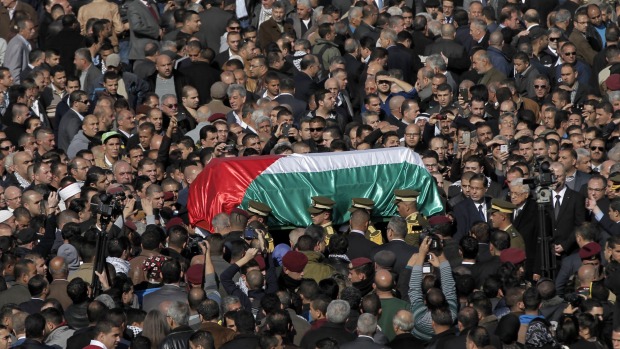 Beirut, Lebanon – Palestinian officials escalated their threats to cut security ties with Israel and push the United Nations Security Council to recognize the state of Palestine as thousands turned out for the funeral of Ziad Abu Ein, a senior government minister who died on Wednesday after a confrontation with Israeli security forces.
Tensions ran high in the West Bank as an autopsy involving pathologists from Palestine, Israel and Jordan appeared to produce conflicting conclusions over the cause of the 55-year-old's death on Wednesday.
Palestinian health officials laid the blame clearly at the feet of the Israeli security forces, while Israel said the 55-year-old had died of a heart attack.
In a video footage aired on news channels around the world, Israeli border police were filmed pushing Mr Abu Ein, one put his hands around his throat, while several witnesses reported an officer wearing an anti-riot helmet head-butting the minister in the chest.
Jordanian and Palestinian doctors involved in the examination said he had died from "being struck, inhaling tear gas and a delay in providing medical attention", senior Palestinian official Hussein al-Sheikh told Reuters.
Sabir al-Aloul, director of forensic medicine in the Ministry of Health, told the Palestinian Maan news agency that Mr Abu Ein's front teeth had been forced to the back of his throat and there was bruising on both sides of his neck indicative of heavy pressure.
However Israel's health ministry announced the politician had died from "a blockage of the coronary artery … due to haemorrhaging", noting "the bleeding could have been caused by stress".
"The deceased suffered from ischemic heart disease; blood vessels in his heart were found to be over 80 per cent blocked by plaque," the Israeli Health Ministry said in its statement.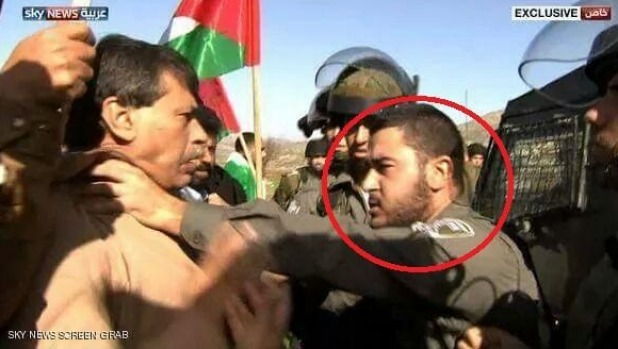 Palestinian Authority President Mahmoud Abbas insisted "all options" were on the table in terms of the authority's response to Mr Abu Ein's death, which occurred at a tree planting ceremony to commemorate International Human Rights Day and protest land confiscations.
Along with suspending the security cooperation established under the 1993 Oslo Peace Accords, Mr Abbas was also under pressure to undertake the steps necessary to give the International Criminal Court jurisdiction to hear complaints made by Palestine.
But there is strong resistance from the United States and other Western governments, including Australia, to the PA taking such "unilateral actions" while peace talks to end Israel's decades-long military occupation have stalled.
Mr Abbas acknowledged as much last month at a memorial commemorating 10 years since the death of his predecessor, Yasser Arafat.
"We'll turn to the International Court to defend our people and will not be deterred by the major pressure that is being exerted upon us," Mr Abbas said.
Chief Palestinian negotiator Saeb Erakat indicated on Thursday a statement would soon be released on Palestine's withdrawal from the security cooperation agreement with Israel.
Many younger Palestinians and senior political figures, including the jailed Fatah leader Marwan Barghouti, see security cooperation with Israel as perpetuating the Israel's military occupation and providing protection for increasingly violent settlers.
Israel believes the security cooperation is vital to prevent terrorist attacks and keep watch on the Islamist Hamas group but Palestinian critics say it is also used by the Fatah-dominated PA to quash dissent in its own ranks and amongst its rivals.
In a letter released from prison on the anniversary of Arafat's death last month, Barghouti called for ties with Israel to be severed, writing that "strengthening the resistance [is] the only way to lift the occupation, to obtain our freedom and the return of the refugees and independence".
However some Palestinian commentators have counselled against tearing up the security agreement with Israel, which involves close coordination between the IDF and Palestinian police and substantial intelligence sharing.
"Neither Israel nor the Palestinians are interested in another round of violent confrontations and the two sides are equally not interested in moving into chaos," said Ghassan Khatib, a former senior advisor to the PA and vice-president at Birzeit University in the West Bank.
As yet there is no confirmation the PA will carry out its threat.
"While there have been whispers and threats and hints, the PA have not announced any suspension of the security cooperation," said Paul Hirschson, a senior spokesman at Israel's Ministry for Foreign Affairs. "Should that change it would be unfortunate, as we believe it is of significant importance to both sides."
Mr Abu Ein, a father of four who was head of the Committee Against the Wall and Settlements, was a former deputy minister of prisoners' affairs and a former prisoner himself. He was extradited from the United States in 1981 over his involvement in the murder of two Israelis in 1979 and sentenced to life in prison, but released in 1985 in a prisoner swap.
SMH