Shots fired at Israeli embassy in Athens by unknown attacker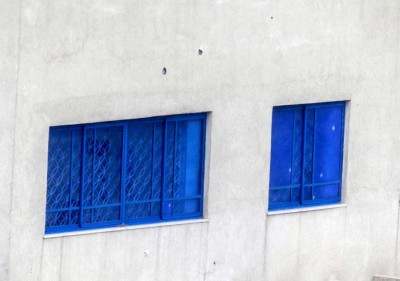 Unknown attackers fired dozens of bullets at the facade of the Israeli embassy in Athens without causing any injury in a pre-dawn, drive-by attack Friday on one of the Greek capital's best-guarded buildings.
Police said 54 bullet casings from an AK-47 assault rifle — a weapon favored by Greek anarchist militant groups — were recovered outside the embassy, on a busy road junction that was closed to traffic for hours.
Nobody claimed responsibility for the attack, which occurred long before the building opened for business.
Officials in Athens condemned the shooting, stressing it would not affect the country's close ties with Israel.
"The Greek government is fully determined to ensure the protection of all diplomatic missions in Greece," a Foreign Ministry statement said. "Of course, particularly strong security and protection measures are in force at the Israeli embassy."
Police said the attackers were riding on at least one motorbike, and escaped after the attack, leaving the building pock-marked with bullet holes.
One year ago, a small left-wing terrorist group called "Popular Fighters" claimed responsibility for a similar gunfire attack outside the German ambassador's residence in Athens, which caused no injury.
Washington Post/ AP