Lebanon is still without a president…Will Aoun, Geagea be able to resolve the impasse?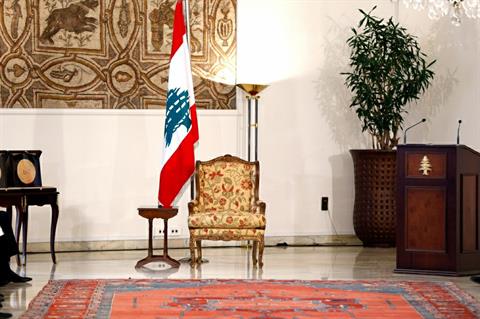 The Lebanese parliament failed today and for the 17th time in a row to elect a president to replace Michel Suleiman whose term ended on May 25.
As in the past sessions the parliament was unable to reach a quorum because the Iranian backed Hezbollah militant group and its ally MP Michel Aoun's Change and Reform bloc MPs boycotted the sessions.
Speaker Nabih Berri postponed toto Jan. 7 , 2015 Lebanon's presidential election
Resolving the impasse
Lebanese Forces leader Samir Geagea, the first to announce his presidential candidacy accused Aoun last November of obstructing the election.
"The Change and Reform bloc is hindering the polls by forcing us to choose between a strong president or vacuum." he said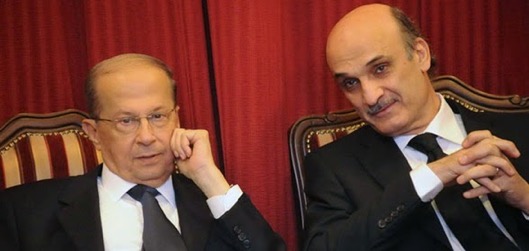 But today Geagea said he was ready to accept Aoun's invitation to talk if the Free Patriotic Movement leader had a serious proposal to end the presidential impasse.
"I am willing to go to Rabieh (Aoun's residence) as long as there is a serious bid for (electing) a president of the republic," Geagea told a press conference following Parliament's failure to elect a president.
The country on Wednesday marked 200 days without a president.
Geagea stressed that he is ready and willing to pull out from the race on condition that "no candidate is imposed" by the opposite camp, in reference to Aoun. "There is one of two options. Either an electoral confrontation under Parliament's roof, or an agreement on a solution, but without imposing any candidate," Geagea added.
Aoun, who is Hezbollah's candidate, has repeatedly refused to withdraw from the presidential race in favor of a compromise candidate, but said Tuesday that he was ready to negotiate with Geagea.
Aoun said Tuesday that he name of the new president is less important that the manner in which public service is exercised in Lebanon
"The problem is not about electing someone to the presidency of the republic; our problem is about electing a republic, and the survival of this republic," Aoun said in a news conference following his Change and Reform bloc's weekly meeting in Rabieh.
"On this basis, I am ready to bargain with anyone otherwise I am staying in the battle." He said.
Aoun's remarks came in response to accusations from March 14 forces that said he was not ready to accept anyone other than himself as Lebanon's next president.
"The problem cannot be resolved anywhere in the world ….it can only be resolved here on Lebanese land," Aoun stressed and added . "Until the last minute, my struggle will remain against foreign intervention."
Asked about a possible visit from Geagea, Aoun said: "He is welcome."
Christian unity
Saudi Ambassador to Lebanon Ali Awad Asiri stressed Wednesday that getting Christians to unite was the key to ending the presidential crisis.
"The election of a president of the republic is a national responsibility, and the most effective way to achieve that is through Christian agreement on the name of a candidate who would then be proposed to Parliament (for voting)," Asiri said after receiving a delegation from the Maronite League who visited him at the embassy.
Asiri contended that Lebanon is in need of dialogue among its different political components, "including inter-Christian dialogue that would narrow divisions among Christian groups and help achieve the overall national interest."
The Saudi envoy stressed that the Christian community played an essential role in achieving the country's independence and development.