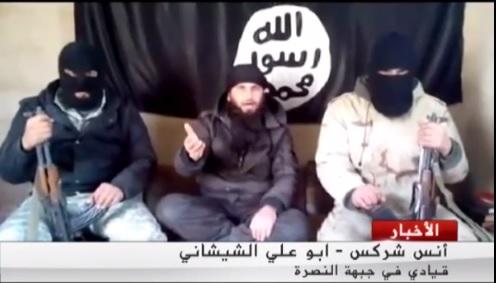 Islamist militant Anas Sharkas( also known as Abu Ali al-Shishani,) whose wife was recently arrested by the Lebanese Army attacked the Lebanese state, accused it of collaborating with Hezbollah and called on jihadists to move the battle into Lebanon.
Sharkas who worked as a pastry chef in Lebanon before joining the jihadists in Syria said in an interview published on in al-Akhbar newspaper on Wednesday that Hezbollah "considers Iran as its God and entered Syria to murder its men and assault its women."
"The mask fell off Hezbollah," Sharkas told the daily.
He slammed the Lebanese government as "lacking leadership," accusing it of being a subordinate of Hezbollah."
"The party came here to kill our men, women and children, while its women and children are enjoying security," Shishani added.
"If we want to succeed we have to fight them in Lebanon." He said
Al-Akhbar said that the interview was carried out two months ago on the outskirts of the northeastern border town of Arsal, way before his wife was arrested .
Sharkas, who hails from the town of Qusayr told the daily.
"I am known as Abu Ali al-Shishani. I am Circassian and I hail from the city of Qusayr, in central Homs, before rafida controlled it. I am proud of my Syrian-Caucasian origin."
Hezbollah fought alongside the Syrian army in fierce battles against the rebels last year.
Shishani said that he joined the jihad with the aim of the formation of an "Islamic caliphate," an Islamic form of government last seen under the Ottoman Empire.
The militant called on the Islamic State group and al-Qaida-linked al-Nusra Front to unite under the "banner of Islam," saying that he "would sacrifice his life for both groups with nothing in return."
He also urged the moderate Free Syrian Army to declare allegiance to the groups.
Shishani said he had sworn allegiance to ISIS recently and is now leading a 30-man-strong battalion called "the Shield of Islam."
On Tuesday, Shishani's wife Ola al-Oqaili was handed over to the General Security. She was arrested two months after extensive surveillance.
She was apprehended along with her brother Rakan in the Zgharta area of Hilan in northern Lebanon at a public school hosting Syrian refugees.
The Military Court's move indicates that the release of al-Oqaili has become imminent and that she has been cleared of any major offenses.
In retaliation to the arrest, al-Shishani threatened earlier to start kidnapping the wives and children of soldiers until the Lebanese authorities release his spouse and two children, but on Wednesday Sheikh al-Rafehi told LBCI that "Al-Shishani contacted us to thank us for the transfer of his wife to General Security. We asked him for a pledge by the jihadists not to harm more hostages."
This error message is only visible to WordPress admins
Error: No connected account.
Please go to the Instagram Feed settings page to connect an account.