Hezbollah chief and former Iraqi PM met in Lebanon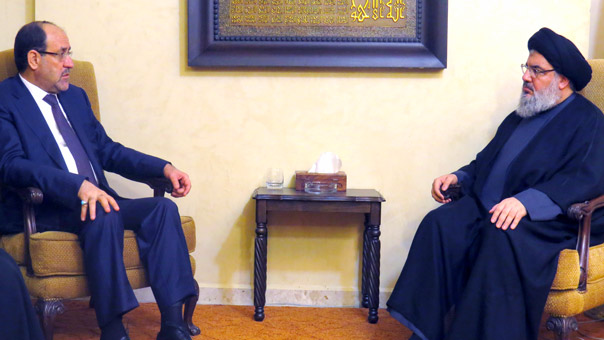 Hezbollah chief Hassan Nasrallah and Iraq's Vice President Nouri al-Maliki met recently in Beirut and reportedly expressed their confidence in a statement ( issued by hezbollah ) that the people and governments of the region would defeat the terrorist Islamic State group.
Such groups and "their destructive plans don't have a future in any country in the region," the statement said
The statement added that Nasrallah and al-Maliki agreed on the needed measures to confront terrorism and "the importance of cooperation to confront sectarian strife and Takfiri movements."
Al-Maliki, who is the  former  Iraqi prime minister, arrived in Beirut on Saturday.
Asked about the fight against the IS in Iraq, al-Maliki said he is "very optimistic" that Iraq will be the group's "graveyard."
According to observers who are closely familiar with Maliki , the real purpose behind his visit is the financing of the Shiite militias in Syria which are helping the Syrian regime of president Bashar al Assad against the mostly Sunni rebels who are trying to topple his regime.
According to the observers, Iran is experiencing serious financial difficulties and Iraq is trying to help out by picking up the tab for the Shiite militia.
According to a recent report Iran has been aiding the Syrian regime in its fight against the rebels . Iranian aid to Damascus may total as much as $10 billion, said Karim Sadjadpour, an Iran expert and senior associate at the Carnegie Endowment for International Peace.
"Assad would not be financially solvent today without Iranian aid," he said.
Tens of thousands of Hezbollah fighters are among the Shiite militias that helping the Assad regime in Syria