Assad regime cuts subsidies as Syria's GDP falls to half prewar level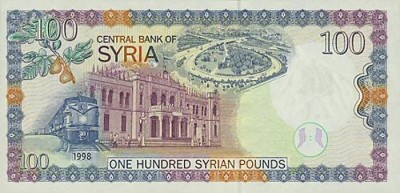 Syria's economy is in a tailspin, and the regime of President Bashar al-Assad is increasingly struggling to find resources to quash the four-year-old rebellion, analysts say.
The government has had to scale back subsidies for citizens for goods ranging from water to heating oil over the last six months. That has angered Syrians, who already face crippling inflation, 50-percent unemployment and wide-scale damage to industry caused by the civil war. In addition, power outages have worsened recently and food shortages loom.
With the opposition weakened, the Syrian military should be able to deal knockout blows to the rebels. But Assad's forces are too short on funds, analysts say.
"You're seeing the continued splintering with these opposition groups, their weakness and vulnerability, but the regime is failing to capitalize on the shortcomings of its adversaries," said Riad Kahwaji, an analyst and chief executive of the Dubai-based Institute for Near East and Gulf ­Military Analysis.
Other economic problems such as falling tax revenues, a collapse in the currency and rising bills for imports have also pushed the regime deeper into "survival mode," he added. Although the government's budget figures are not made public, analysts say Damascus has had to shift priorities to pay for the war effort.
It has slashed spending on social welfare, including cutting subsidies for water and electricity over the summer.
Last month, the government did the same with diesel and heating oil. That cutback was partly a reaction to airstrikes by the U.S.-led coalition that damaged oil installations in eastern Syria that had fallen under the control of the Islamic State.
Although they are enemies, the Islamic State gave the regime an unlikely boost, selling its own oil back to the government at cheap rates, according to analysts and U.N. officials. But the coalition airstrikes that began targeting the militant group in September have slowed those transactions, they say.
The cumulative effect has been not only a strain on the government but more hardship for many Syrians like Abdul Aziz, a 29-year-old graphic designer who lives with his parents and two siblings. Like scores of his neighbors, he and his family were forced six months ago to start taking international food handouts distributed by local charities.
"People can hardly afford to live anymore," Abdul Aziz said via Skype from his home in central Damascus, which is controlled by the government. Fearing retribution, he asked that his full name not be published.
Last month's subsidy cuts reportedly sent the price of heating oil from 73 to 85 cents a liter — the equivalent of going from $2.76 to $3.22 a gallon — while diesel went up by 12 cents a liter, to 48 cents, or about $1.82 a gallon. This has caused prices of a wide variety of goods to jump. Even clothes are becoming unaffordable for many Syrians, with residents in the capital saying blue jeans are sold for as much as eight times their pre-war price.
"Instead of eating meat or chicken every day like we used to, we eat it once or twice a week," said Amjad, 24, a software engineer who lives with his sister in Damascus. He also asked that his full name not be published, citing safety concerns.
Syrians have been so angered by the rising fuel costs that there have been protests in regime-held areas, a rare event. That has added to the pressure on the government, which already is facing discontent over the huge war casualties suffered by Alawites, the minority religious group that dominates the regime's military forces.
Some 200,000 people have been killed since the start of the uprising.
'Army is overextended'
A year ago, the regime appeared to be turning the tide of the war, inflicting setbacks on rebels in strategic locations such as the Qalamoun area near the border with Lebanon.
But Assad's forces now appear bogged down on a number of fronts. Rebels still cling to parts of Aleppo and the capital, while in the south, the armed opposition is making advances.
"The Syrian army is overextended," said Fawaz A. Gerges, a professor of international relations at the London School of Economics and Political Science.
Many of the government's revenue sources have vanished. Opposition groups control nearly half of the country and most of its oil installations, and industries such as tourism have been decimated.

Jihad Yazigi, editor-in-chief of the Syria Report, an economic news Web site, said Syrian gross domestic product has fallen to half of its pre-war level of roughly $60 billion.
With local industry battered by the fighting, the Syrian government must rely more on imports of items such as oil and wheat. But the Syrian pound has lost three-quarters of its value in the past four years, making those goods increasingly expensive to bring in.
Once the imports arrive, it can be difficult to get them to market. Rebels regularly ambush supply routes, contributing to periodic shortages of flour for bread and natural gas for electricity. In both rebel- and regime-held areas, power outages now last as long as 23 hours a day.
The difficulties have forced the two sides to work together. Rebels control the main water supply for Damascus, but the government secures its flow into the capital with concessions on such issues as prisoner releases.
The Assad government is also being squeezed by Western economic sanctions. It has relied increasingly on Russia and Iran for help. Since the rebellion started, Iranian aid to Damascus may total as much as $10 billion, said Karim Sadjadpour, an Iran expert and senior associate at the Carnegie Endowment for International Peace.
"Assad would not be financially solvent today without Iranian aid," he said.
But the capture of parts of Iraq by the Islamic State over the summer severed important supply lines that had been used by Iran, a close ally of the Shiite-dominated government in Baghdad.
"The Baghdad road was critical for Assad. It brought in not just goods and services from Iran, but also oil, cash and arms," said Gerges.
Back in Damascus, residents suspect the influx of international food aid has freed up resources for the regime to put toward the war. Nonetheless, the food donations are vital, they say.
"People wouldn't receive the necessary nutrition without this aid, and things would be far worse," Abdul Aziz said.
Washington Post