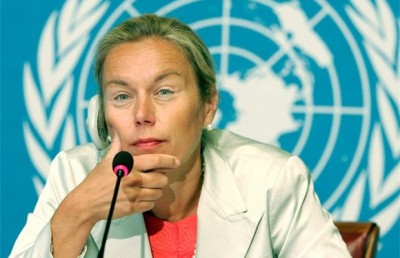 The official who led the international effort to rid Syria of its chemical weapons has been named the new United Nations special coordinator for Lebanon.
U.N. Secretary-General Ban Ki-moon announced Sigrid Kaag's appointment in a statement Monday.
Kaag, of the Netherlands, served as special coordinator of the joint mission of the United Nations and the Organization for the Prohibition of Chemical Weapons to eliminate Syria's chemical weapons. The mission ended in September after destroying nearly all of Syria's declared stockpile. However, concerns remain that Syria has not made a full declaration of its chemical weapons and the OPCW continues to work on resolving those discrepancies.
Kaag has served in various U.N. positions since 1994. She replaces Derek Plumbly of Britain in the Lebanon post.
Women's role underscored 
Plumbly underscored  on Monday the key role women can play in peace-building and in bringing war-torn communities back together for a better future free from violence.
"Women experience conflict differently from men, and women have a vital role to play in ending conflict," Plumbly said in Tyre, addressing women from southern Lebanese villages on Open Day on Women, Peace and Security, according to a statement.
Stressing that Lebanon has one of the lowest rates of female representation in any parliament and government in the world, Plumbly said the U.N. wants Lebanese women to share their views on what can be done to advance their participation in peace-building, prevention and post-conflict reconstruction.
"These are the terms of Security Council resolution 1325, and must not just be words on paper but together we must turn them into meaningful action," Plumbly said.
"Gender equality is not just a women's issue but a human rights issue, and men must be partners in gaining equal rights for women and preventing the abuses that women face," Plumbly added.
Women in Lebanon are insufficiently represented in all state institutions .
ABC News / AP