Hezbollah confirms Iran's role in fighting ISIS in Iraq
Lebanon's Shiite movement Hezbollah confirmed on Friday Newsweek's report that Major General Qassem Suleimani who heads Iran's elite Quds Force led the anti-jihadist counter-attack in Iraq after the Islamic State group made major advances in June.
Hezbollah's mouthpiece Al-Manar said that Suleimani landed in Baghdad on June 10, hours after ISIS overran the Iraqi city of Mosul, leading a group of Lebanese and Iranian military experts.
Al-Manar said Suleimani had together with the Iraqi military and Shiite militias worked out a strategy "to secure Baghdad and its surroundings", when the jihadists appeared unstoppable.
Al Manar revealed that "The first order he gave was to secure the road linking Baghdad to Samarra (to the north), and he successfully expelled the IS jihadists who had been occupying sections of this vital artery,"
"He had a direct role in battles on this road, and has been present in all the major anti-IS battles in the western province of Anbar," Al-Manar added
It said Suleimani also took part in fighting in "the Kurdish regions of Diyala (in the east), the oil-rich province of Kirkuk and in the recent battle to reclaim Baiji refinery".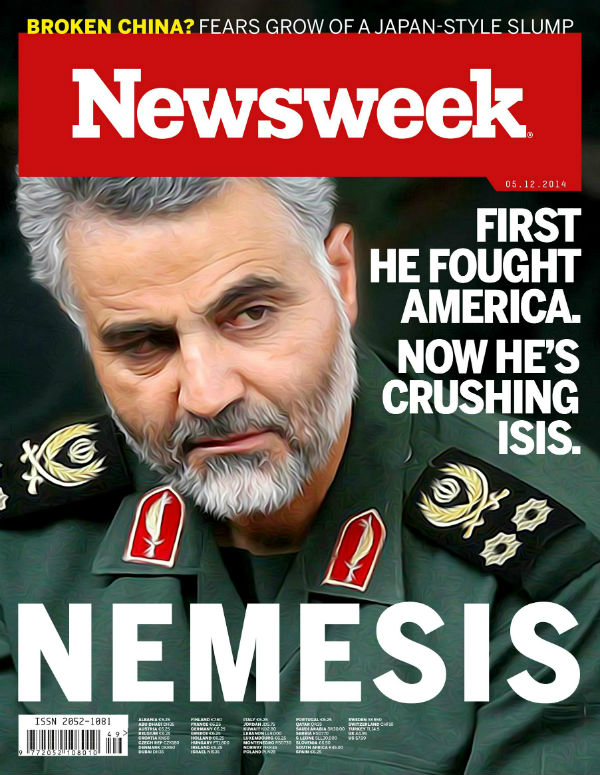 Newsweek reported that " While usually secretive, ­Suleimani allowed himself to be photographed last September on the battlefields of Amerli, clearly sending a message to the West that ­Tehran was very present."
"He is here often in Baghdad, and Northern Iraq," said one of Iraq's leading Shiite politicians who asked to remain anonymous, according to the Newsweek report. "Of course the Iraqi government knows about this. He is smart. He is also a man who loves war. He knows he is good at it." The Newsweek report added.
In 2008, the United States accused Suleimani of training Shiite militias waging attacks against Western troops in Iraq.
Newsweek quoted Sheikh Raad Al Kafaji, a former Iraqi Shiite Army officer and who is currently a commander in the Kata'ib Hezbollah militia in Iraq as saying that some of his men were paid up to $700 a day by Iran to fight in Syria.