Aoun sets another condition for presidential run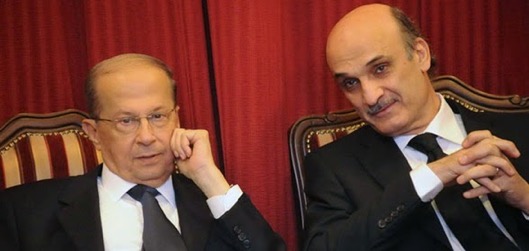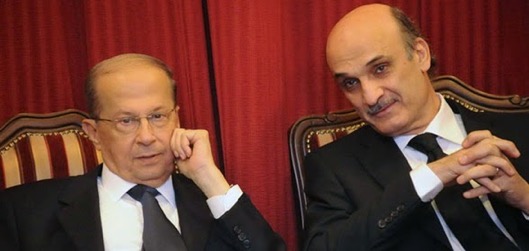 Free Patriotic Movement leader MP Michel Aoun finally decided to forego his former condition of being the only consensus presidential candidate and announced on Wednesday that he will run for the presidential post against Lebanese Forces leader Samir Geagea, but on condition that they will be the only 2 candidates.
But as expected PSP leader Walid Jumblatt was quick to announce that he would not withdraw his party's candidate, MP Henri Helou, from the presidential race . "I respect Gen. Aoun's opinion, but we have the right to a democratic competition," Jumblatt said on his Twitter account.
Aoun also demanded that rival parliamentary blocs pledge that there would be no hocus-pocus deal behind the scenes over the presidential election as a condition to challenge Geagea .
"I am ready to go to Parliament to fight the presidential battle against Geagea provided that all [blocs] pledge that there will be no hocus-pocus deals under the table," Aoun said in an interview with MTV station Wednesday night.
"If the presidential battle is confined to me and Geagea, I will go to Parliament," he said. "The offer I made includes Geagea only because he has been challenging me. I want guarantees the presidential vote will take place and the [Parliament] session will not be turned into a party."
Aoun's offer came shortly after the Lebanese parliament failed Wednesday and for the 16th time in a row to elect a president to replace Michel Suleiman whose term ended on May 25,prompting Speaker Nabih Berri to postpone the session to Dec. 10.
As in the past sessions the parliament was unable to reach a quorum because the Iranian backed Hezbollah militant group and its ally Aoun's Change and Reform bloc MPs boycotted the sessions.
Geagea, the first to announce his presidential candidacy accused Aoun on Wednesday of obstructing the election.
Geagea added:
"We disagree with the Change and Reform bloc on its view of a new president. Their presidential candidate may be strong in his recklessness as demonstrated during some civil war incidents." , a possible reference to the October 13, 1990 defeat by Aoun on the hands of Syrian president Hafez Assad, which forced him to flee to the French embassy in his pajamas , leaving his wife and girls behind.
Geagea added: ( Hezbollah chief) Sayyed Hassan Nasrallah had announced that Aoun was the March 8 camp's presidential candidate, so why didn't their MPs head to parliament and elect him?
Geagea concluded:
"We should hold Hezbollah and the Change and Reform bloc accountable for obstructing the polls."
Aoun considers Helou as a spoiler since he cannot muster the votes needed to be a viable candidate.
Since neither the March 8 , nor the March 14 alliance are able to muster majority votes to win the presidency, Jumblatt, with his 11 MPs, is seen as the kingmaker whose support for any of the two coalitions can tip the balance.
Jumblatt announced on several occasions that neither Aoun nor Geagea should be the next president because he considers them both polarizing figures and has been trying to work behind the scenes on bringing in an independent consensus candidate from outside the March 14 and March 8 camps.