Turkey upgrades the status of Syrian refugees to temporary residents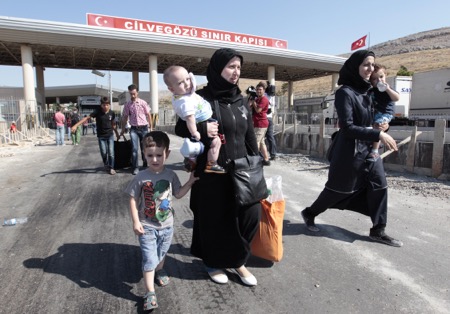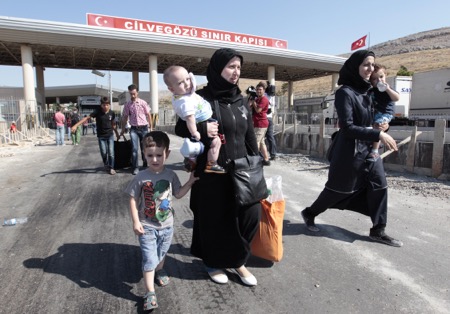 By: Abdulrahman Al-Rashed*
The announcement made by Turkish Labor Minister Faruk Çelik to grant Syrian refugees in Turkey something more than just tents and blankets was a positive one. These refugees will now be registered as temporary residents and the government will help them obtain jobs in sectors that suffer from labor shortages.
Not only is it a humane gesture for the 1.7 million Syrian refugees in the country, but also a progressive political stance that will help them remain opposed to the Syrian regime while at the same time benefiting the Turkish economy.
The Syrian regime's policy is to force its citizens to flee. When President Bashar Al-Assad's forces target populated areas, they are in fact bombing these areas to punish ordinary residents in the cities that have joined the rebellion. The Assad government also seeks to punish neighboring countries through their having to bear the burden of millions of refugees from Syria displaced by the regime.
The Assad regime, its thugs and other terrorist groups, have destroyed cities and villages, terrifying people and forcing them to leave their own country. These hapless civilians have left their homes both out of fear and in search of food and treatment after their cities were systematically besieged and international aid was blocked.
In the largest humanitarian calamity in recent history—now well into its third year—over 3 million Syrians have crossed borders to seek refuge in neighboring countries including Jordan, Lebanon and Turkey. The Assad regime is hoping these countries, as well as a majority of resentful refugees, will be forced to reconcile with the regime and come back under its terms. This explains the regime's strategy of rendering millions of people who lived in opposition areas homeless.
However, after three and and half difficult years, this policy no longer remains viable. The regime has displaced more than one-third of its population, and it is unable to control semi-autonomous areas or provide the basic necessities needed for living a normal life in such a weak state. This shows that the regime will not be able to entice the refugees back even if they recognize its authority.
After punishing those living in the areas that revolted against it, the regime is now forcing the youth in more stable areas to join its Iranian-led militias and defend the territory left under the government's authority.
The compulsory enlistment may harm the regime and cause internal divisions within the army itself. This is because most of those who are refusing to be conscripted are from among the regime's supporters, which further reveals the dire state of Assad's government.
A recent Washington Post report reinforces the notion that Assad's camp has much to fear. The report documented a decrease in support for Assad among Alawites, who are seen as his last pillar of support.
Further evidence of the regime's possible collapse is one US official's claim that President Barack Obama—who can no longer be trusted on the Syrian issue—changed his mind and asked his aides to look for alternatives to Assad, believing that if he were to remain in power, fighting the Islamic State of Iraq and Syria would be impossible.
Whether or not Obama is being sincere or just wants to appease Arab governments, the fact remains that it will be impossible to defeat terrorism as long as Syria is not stable—or under Assad's rule.
While we wait for a political or military solution, granting refugees the opportunity to live with temporary identities and providing them with jobs to make a living is a beautifully humane move that will give these oppressed people a glimpse of hope after years of suffering and torment.
* Abdulrahman Al-Rashed is the general manager of Al-Arabiya television and the former editor-in-chief of Asharq Al-Awsat newspaper