Isolated Putin to exit G-20 summit as Ukraine Casts Shadow, report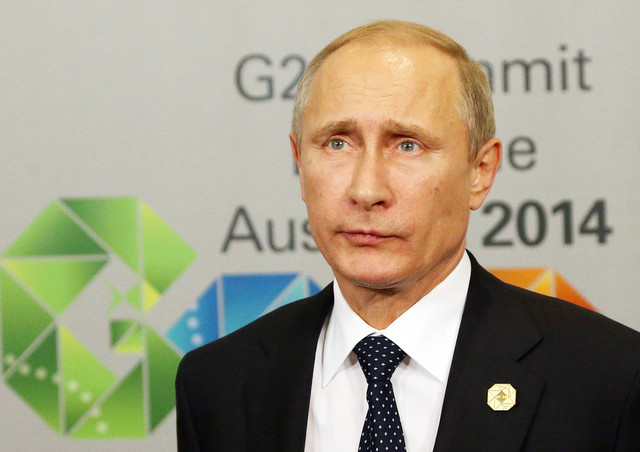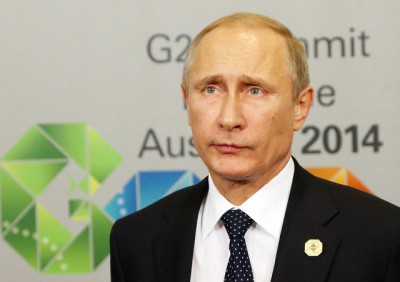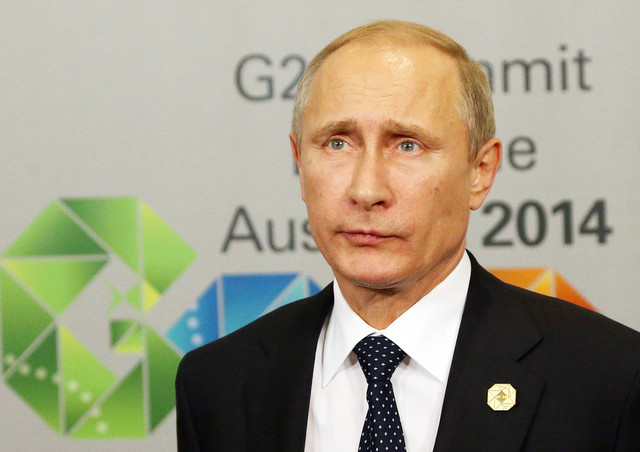 By Ilya Arkhipov and Jason Scott
Russian President Vladimir Putin intends to leave the Group of 20 summit in Australia earlier than scheduled, according to people familiar with his plans, as some leaders demanded Russia stop arming rebels in Ukraine.
Putin plans to skip an official lunch today and bring forward his news conference before leaving Brisbane, two people said on condition of anonymity because the plans are private.
Dmitry Peskov, Putin's spokesman, said by phone he couldn't rule out an early departure for the president if the working part of the G-20 agenda was over because he has meetings "on Monday in Moscow and the flight is very long."
The crisis in Ukraine has overshadowed the G-20 summit, where European leaders called on Russia to stop supplying separatists and warned of possible further sanctions. He received a blunt message when he approached Canadian Prime Minister Stephen Harper for a handshake.
"I guess I'll shake your hand but I have only one thing to say to you: You need to get out of Ukraine," Harper told Putin, the prime minister's spokesman Jason MacDonald said in an e-mail. Putin told Harper that would be impossible because Russian troops aren't there, Peskov said.
Europe Meeting
U.S. President Barack Obama plans to meet with European leaders this afternoon to discuss the situation in Ukraine, according to the White House. While several U.S. allies have held one-on-one meetings with Putin, Obama had only brief encounters with the Russian president at an Asia-Pacific summit last week and has no plans for direct talks.
NATO Secretary General Jens Stoltenberg accused Russia of bringing artillery, tanks, and rockets over the border, according to an interview in Germany's Bild newspaper. Russia, which occupied and annexed Crimea from Ukraine in March, has repeatedly denied that it's sending its armed forces into Ukraine or aiding the separatists.
Do "you want that the Ukrainian government eliminates everybody there, all the political enemies and adversaries?" Putin said during an interview with German broadcaster ARD. "Do you want it? We don't want it. And we won't allow it."
Putin spoke with German Chancellor Angela Merkel for almost four hours during a late night meeting that included European Commission President Jean-Claude Juncker. The Russian leader gave a "detailed" explanation of his country's position on Ukraine, Peskov told reporters. Earlier, Merkel told reporters the situation in Ukraine "is not satisfactory."
'Turbulent Moments'
European foreign ministers meeting Nov. 17 in Brussels will discuss expanding the list of individuals targeted as part of sanctions on Russia, she said.
The Ukraine crisis is the worst standoff between Russia and its former Cold War foes since the Iron Curtain fell 25 years ago.
"There are many turbulent moments in the world today," Putin said at the start of a meeting yesterday with French President Francois Hollande. "In some issues we have different positions. All the more it is useful to meet and talk about all these issues and I think to do everything to minimize risks."
Rebel shelling killed seven Ukrainian servicemen and wounded 10 over the past 24 hours, military spokesman Volodymyr Polevyi told reporters in Kiev. He said Russia continued to supply the rebels and move troops to the countries' shared border. The Organization for Security and Cooperation in Europe, which is monitoring the conflict, said one of its teams saw five men dressed in fatigues with Russian flags and insignia in the Luhansk region. They were unable to confirm their identity, according to a website statement.
Ukraine Decree
Ukrainian President Petro Poroshenko signed a decree asking parliament to strip the rebel-held areas of Luhansk and Donetsk of their special status, according to a statement on his website, following Nov. 2 separatist elections that the U.S. and EU condemned as illegitimate. He decreed that the government would overhaul its system of providing funding, services and energy and close government offices and public companies in the regions, evacuating personnel with their permission.
U.K. Prime Minister David Cameron and Putin had a robust exchange during one-on-one talks that lasted 50 minutes, a U.K. official said, asking not to be identified because they aren't authorized to speak publicly.
Cameron made clear there was a fork in the road and Russia should honor the Sept. 5 truce signed in Minsk or face further sanctions, the official said. The British prime minister earlier told Sky News that Russian warships that sailed toward northern Australia ahead of the G-20 meeting were symbols of "international machismo."
Lunch, Koalas
G-20 host Prime Minister Tony Abbott has accused Russia of supplying the weapons used to shoot down Malaysian Airline System Bhd. Flight 17 over Ukraine in July.
As Abbott addressed leaders yesterday, Putin was seated at the other end of the room. That's a far cry from his central position at the Asia-Pacific Economic Cooperation summit in Beijing this week, where he and Obama flanked Chinese leader Xi Jinping.
While Abbott posed for pictures with Obama, Xi, Cameron and Harper at a barbecue lunch, Putin sat with Brazil's Dilma Vana Rousseff across the other side of a table for six. At one point Abbott posed separately for photographs with Obama and Putin as each leader cuddled a koala.
When the leaders later walked one-by-one into the Brisbane venue for an official summit welcome from Abbott, Putin was toward the end of the line. As they shook hands Abbott clasped Putin on the shoulder and the two smiled and chatted briefly as they posed for photographs. During the "family" photograph of all leaders, Putin was placed on the far left of the front row.
Josef Stalin
Obama called Russian "aggression" in Ukraine a threat to global security and in a speech at the University of Queensland said the shooting down of the Malaysian airliner over Ukraine had appalled the world.
About 30 men of Russian and Serbian origin marched outside the G-20 summit site yesterday carrying placards that read: "Putin, our president and emperor." To the tune of World War II songs blaring from a stereo, they held aloft flags from the Slavic nations, and oversized portraits of Putin styled in the manner of those of former Soviet dictator Josef Stalin.
As military helicopters buzzed over the city and the temperature soared to 35 degrees Celsius (95 degrees Fahrenheit), another group rallied against the Russian president. One held a photo-shopped image portraying Putin as Doctor Evil from the Austin Powers movies, while others carried placards that read "Putin Not Welcome in Oz" and "Russian Troops Get Out of Ukraine."
Business Week