Russian 'Aggression' In Ukraine Takes Center Stage At G20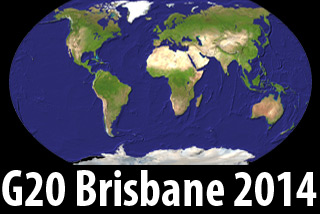 Russia's role in Ukraine's crisis was taking center stage in Brisbane, Australia on November 15 as world leaders gathered for the two-day G20 summit.
President Barack Obama said in a speech at Brisbane's University of Queensland on November 15 that the United States is leading the world in "opposing Russia's aggression against Ukraine," which he described as "a threat to the world."
Obama said the global threat now posed by Russia "was seen by the appalling shoot down of MH17" — the Malaysia Airlines jet that was shot down in eastern Ukraine on July 17 by a missile suspected to have been provided by Russia and fired by Russian-backed separatists.
All 298 people aboard were killed — including 38 Australian citizens and residents.
Obama told the Australian audience: "As your ally and friend, America shares the grief of these Australian families and we share the determination of your nation for justice and accountability."
Although Ukraine's conflict was not on the formal agenda of the G20 summit, it was due to be discussed on November 16 by Obama and European Union leaders on the sidelines of the gathering.
United Nations Secretary General Ban Ki-Moon said in Brisbane that "the current situation is not sustainable for world peace and the
economy."
Ban urged world leaders, "particularly the United States, Europe, and the Russian leaders who are sitting together at the G20 to discuss the
matter."
European Council President Herman Van Rompuy told reporters in Brisbane on November 15 that Moscow has sent troops and heavy weaponry into eastern Ukraine, echoing allegations made by the Ukrainian government and NATO's top commander in Europe during the past week.
Van Rompuy also said the EU could take further punitive actions against Russia unless it stops the flow of weapons and troops from Russian territory and withdraws the Russian troops already in Ukraine.
He said Russia also must use its influence with pro-Russian separatists to ensure that they comply with a September 5 cease-fire agreement that has been violated daily.
Van Rompuy also announced that EU foreign ministers would meet on November 17 "to assess the situation on the ground and discuss possible further steps" against Russia, which already faces EU and U.S. sanctions over its role in Ukraine's crisis.
Van Rompuy said: "We will continue to use all diplomatic tools including sanctions at our disposal."
Kyiv and NATO have said multiple columns of Russian tanks, artillery, antiaircraft units, and troops have crossed from Russian territory during the past week to reinforce pro-Russian separatists in eastern Ukraine.
Monitors from the Organization for Security and Cooperation in Europe (OSCE) confirm seeing unmarked military columns reinforcing separatists in eastern Ukraine during the past week.
But the OSCE monitors say their mandate prevented them from being positioned where they could confirm whether the columns had crossed from Russian territory.
German Chancellor Angela Merkel said on November 14 ahead of her arrival in Brisbane that she is very worried about reports on "the delivery of arms" by Russia to pro-Russian separatists in eastern Ukraine.
Merkel accused Russia of violating Ukraine's territorial integrity and the issues will be discussed on the sidelines of the G20 meetings.
Russian President Vladimir Putin, who arrived in Brisbane on November 14, continues to deny that Russia has any troops or weaponry in eastern Ukraine.
In an interview with Russia's state-controlled news agency TASS on November 14, Putin said the economic sanctions imposed against Russia by the United States, the European Union, and other Western governments go against the principles of the G20 and international law.
Putin maintained that the asset freezes, visa bans, and blocks put on Russian companies trying to access Western financial markets can only be imposed by the United Nations and the UN Security Council, where Russia wields veto powers.
Meanwhile, reports from Brisbane say an overhaul of the global energy market could be a long-term outcome of the summit after talks there about a new international agency to prevent oil and gas supplies from being used as foreign policy tools.
"The Australian" newspaper says the new global energy institution will not be established in Brisbane, but leaders could agree on the principles such an agency would adopt.
Russia's state-controlled natural gas monopoly, Gazprom, has been wielded repeatedly as a foreign policy tool by the Kremlin – which uses gas prices and the threat of supply cuts to pressure foreign governments.
rferl