Israeli woman killed, soldiers injured as violence escalates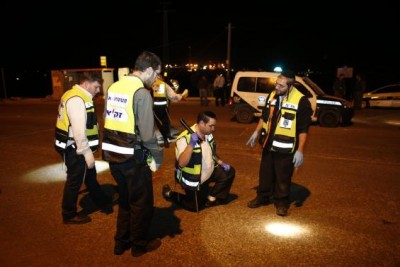 Assailants stabbed several Israelis on Monday, killing a young woman at a bus stop in the West Bank and gravely wounding an Israeli soldier in Tel Aviv, the latest in an ongoing wave of Arab violence that has put the country on edge.
Prime Minister Benjamin Netanyahu promised a harsh response to the violence, saying he will use all means available – and consider taking even tougher steps, to stop the unrest. And in a veiled threat toward Arab demonstrators in Israel and east Jerusalem, he said attackers should consider moving to the West Bank or Gaza Strip.
"Believe me, we will put no difficulties in your path," he said.
Netanyahu spoke after the soldier was stabbed at a crowded train station by a suspected Palestinian assailant in Tel Aviv, but before the deadly attack outside the West Bank settlement of Alon Shvut.
Police said the assailant stepped out of a car at a bus stop in front of the settlement, then stabbed three people before he was shot by a security guard. Police said a woman in her mid-20s was killed, while two other people were wounded. The attacker was in serious condition.
In the Tel Aviv attack, police spokesman Micky Rosenfeld said the suspect was from the West Bank city of Nablus, traveling in Israel without a permit, and was captured immediately after the stabbing.
"He is presently under interrogation," Rosenfeld said.
Tensions between Israelis and Palestinians have been extremely high in recent weeks, following last summer's war in the Gaza Strip and increasing frictions over a contested Jerusalem holy site. Palestinian attackers have carried out two deadly attacks in Jerusalem by ramming their cars into crowded train stations, while a third assailant attempted to kill a prominent Jewish activist who has pushed for greater Jewish access to the holy site.
The fatal shooting of an Arab Israeli by a policeman early Saturday in the northern Arab Israeli town of Kfar Kana gave new impetus to the tensions, following the release of a video that appeared to show the man backing away from police when he was shot. The shooting sparked violent demonstrations in Kfar Kana.
The police's internal investigations department is looking into the shooting to determine whether proper protocol was followed.
Police officials say none of the attacks on Israeli targets appear to be related, and that the assailants all acted individually. The individual nature of the attacks could complicate efforts by authorities to prevent further violence.
Arab citizens make up some 20 percent of Israel's population. They enjoy full citizenship but share the ethnicity and culture of the Palestinians in the occupied territories, and have long complained of discrimination. They often identify with Palestinian nationalism, rather than Israeli.
CBS