Australian PM did not deliver on his threat to "charge down" Putin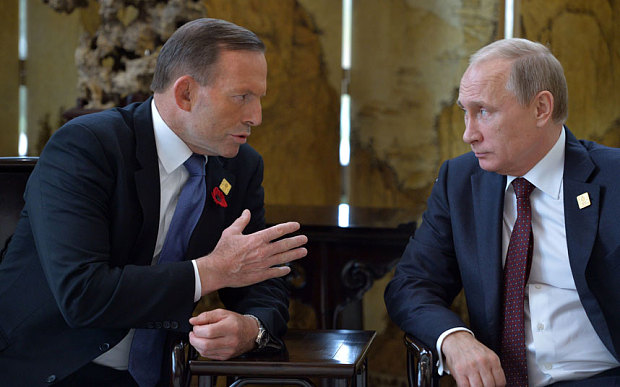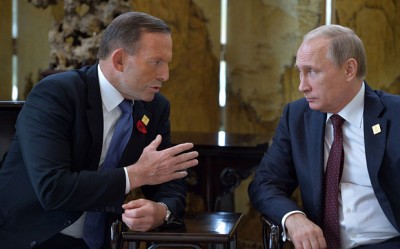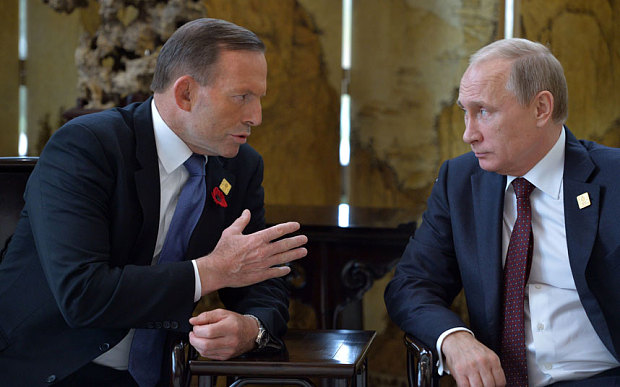 Russian President Vladimir Putin and Australian Prime Minister Tony Abbott urged a quicker probe into the MH17 crash but the two leaders appeared to avoid a diplomatic butting of heads, according to the Kremlin.
Abbott had famously vowed to "shirtfront" Putin – an Australian Rules football term in which a player charges an opponent – over the downing of Malaysia Airlines flight MH17 in July, in which 298 people died in rebel-held eastern Ukraine, including 38 Australian citizens and residents.
"The catastrophe of the Malaysian airliner was the main topic of discussion between Vladimir Putin and Tony Abbott," the Kremlin said in a statement after the leaders met at the APEC summit in Beijing.
"The leaders have robustly spoken out in favour of speeding up the investigation of the reasons for the tragedy."
"The unacceptability of a situation when experts cannot get to the crash site has been noted," the Kremlin added.
"Vladimir Putin stressed that from the very beginning Russia consistently demanded that the investigation be unbiased, quick and effective."
Separately, Putin's spokesman Dmitry Peskov told the state news agency RIA Novosti that Abbott did not appear to deliver on his threat.
Asked if Abbott managed to "shirtfront" the Russian leader over the loss of Australian lives, Peskov said: "It appears that he did not try."
Anger at Putin was so fierce after the MH17 tragedy – Kiev and the West say the plane was blown out of the sky with a missile supplied by Russia – that some said Putin should be banned from coming to Australia.
But Abbott also wants the G20 to stay focussed on its economic remit, and sought instead to meet Putin in Beijing rather than Brisbane, to get the MH17 conversation out of the way at APEC first.
Separately, the Kremlin said Putin also discussed the Ukraine crisis as well as Iran and Syria with US President Barack Obama.
Watch: an Aussie rules 'shirtfront'
Telegraph