Falling oil prices, sanctions push Russia to brink of recession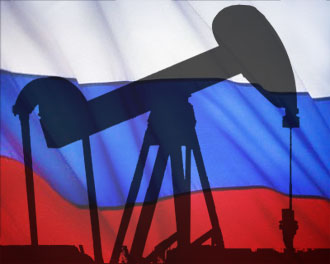 Falling prices for oil, Russia's lifeblood, and the Western-imposed economic sanctions have pushed the Russian economy to the verge of recession.
Russia's central bank on Monday revealed that it expects zero growth in 2015, assuming the sanctions remain in place and an average oil price of $95 (U.S.) a barrel. While it's probable that the sanctions will not disappear any time soon, the oil assumption is brave. Brent crude, the effective global benchmark, has fallen almost 25 per cent since June and was last trading just under $85. If OPEC fails to tighten output at is Vienna meeting at the end of this month, another steep fall cannot be ruled out.
At the same time, the central bank pushed out its medium-term inflation target of 4 per cent to 2017 from 2016. Russian inflation is 8 per cent or higher and that puts Russian president Vladimir Putin in a tight spot. If inflation remains high, he risks a consumer backlash as buying power drains away. But trying to tame inflation through higher interest rates – they have already been hiked by 1.5 percentage points this year – would be deeply unpopular for consumers and businesses.
The good news for Russia is that the new forecast failed to send the ruble, which was in free fall last week, any lower. The currency actually climbed by more than 2 per cent Monday morning, after the central bank published its new forecast. The rise was probably triggered by the bank's announcement, made on Friday, that it would intervene to support the ruble if it sees a threat to financial stability. Recently, the bank's currency interventions have been relatively small, at no more than US$350-million a day.
Russia's new natural gas export deal with China, signed by Putin and Chinese president Xi Jinping Sunday in Beijing, may have contributed to the rubble's reversal this morning. The deal, the second announced by the two countries this year, is worth hundreds of billions of dollars and shows that Russia can find new outlets for its energy even as Europe attempts to reduce its heavy reliance on Russian gas. Citing a Nomura report, Bloomberg reported that the two deals signed this year could see Russia supply almost 17 per cent of China's gas by 2020.
Russia's currency slump, however, may be far from over. The ruble has fallen by almost 30 per cent against the dollar this year, with all of the fall coming since June, when oil prices began to slide and geopolitical tensions increased. In July, the ruble was dealt another blow when the European Union and the United States imposed a second round of sanctions on Russia. Since September, the currency has been in step decline. High volatility has seen the ruble swing by several per cent on any given trading day. Measured against the dollar, it is now down by about half since mid-June, just before the start of the global financial crisis.
The question is whether the currency rout will get worse, and it could if investors lose confidence in the currency. The trigger could come from another big fall in oil prices or an escalation in the conflict in Ukraine. "What started as a slow-burn currency crisis now threatens to become a full-blown financial one, with the risk of a run on ruble-denominated deposits increasing with each passing day," Nicholas Spiro, of London's Spiro Sovereign Strategy consultancy, said in a Monday note.
The devalued ruble has been good news for Russian exporters and has yet to inflict serious damage on Russian oil companies (since most of their costs are in rubles while they sell in dollars). But Russia's banks face big risks. As the currency falls, and as the sanctions prevent some of them from raising capital in Western markets, their ability to refinance their foreign currency-denominated debt will suffer. Banks and corporate borrows have about $40-billion in foreign debt coming due by the end of the year and a larger amount next year.
On Monday at the Asia Pacific Economic Co-operation summit in Beijing, Mr. Putin did his best to calm the currency markets. "We are currently seeing speculative jumps in the exchange rate, but I think that this should stop soon," he said, insisting that the ruble's steep fall is "absolutely not related to fundamental economic reasons."
The problem with Putin's statement is that high oil prices are absolutely fundamental to health of the Russian economy. If the oil glut builds, a Russian recession is not out of the question.
Globe and mail