Lebanon parliament extends own term till June 2017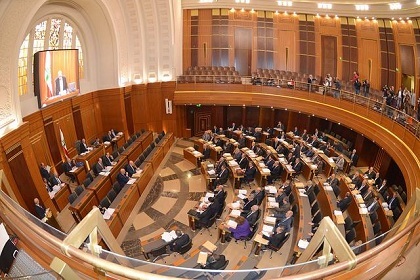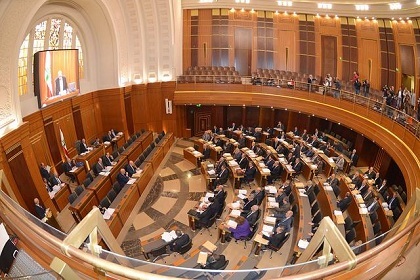 The Lebanese parliament voted on Wednesday to extend its own mandate until June 2017 despite the fact that two rival Christian parties boycotted the session .
The Free Patriotic Movement which is headed by MP Michel Aoun and the Phalange Party which is headed by former Lebanese president Amine Gemayel boycotted the voting session.
The Change and Reform parliamentary bloc which is headed by Aoun and which includes several parties in addition to FPM went different ways. While Marada MovementMPS voted for the extension the Armenian Tashnag Party MPs voted against .
The draft-law which was proposed by Zahle MP Nicolas Fattoush and which extends parliament's mandate for two years and seven months( until June 20, 2017) received the vote of 95 MPs out of 128.
Despite the boycott by some Christian parties, the Lebanese Forces, another main Christian party, voted in favor of the extension, claiming that the Lebanese institutions would be paralyzed if MPs failed to extend their own term.
According to LF claim if parliamentary elections were held amid a vacuum at the helm of the country's top Christian post, the government would become illegitimate because the constitution states that the head of state should name a new prime minister to form the cabinet. Lebanon has been without a head of state since May 25 when Michel Suleiman's six-year term ended.
Reactions after the vote
MP Sethrida Geagea, wife of presidential candidate Samir Geagea said following the session that the LF was compelled to vote for the extension because it wants to "save the country by taking unpopular decisions."
Similarly Progressive Socialist Party leader MP Walid Jumblat announced that the extension was aimed at averting vacuum.
But the FPM described the vote as an attempt to abolish democracy and the rotation of power.
Foreign Minister Jebran Bassil, who is not an MP but is Aoun's son-in-law, said: "We just witnessed a robbery in parliament."
This was the second time parliamentarians extends it own terms, giving it a full eight years in power— double the allowed 4 year mandate.
The Civil Movement for Accountability (CMFA) activists staged a protest  at an area near Nejmeh Square in downtown Beirut where the parliament is located in an attempt to block the vote. Dozens of CMFA members sought to stop the vehicles carrying lawmakers from reaching parliament and also pelted several  cars  of lawmakers  with tomatoes and eggs.