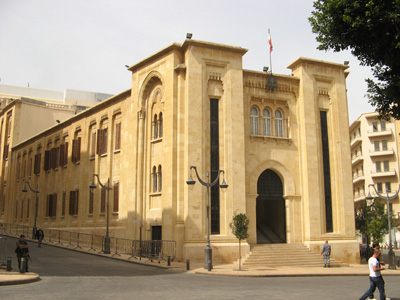 parliament The Lebanese parliament failed today and for the 15th time in a row to elect a president to replace Michel Suleiman whose term ended on May 25.
As in the past sessions the parliament was unable to reach a quorum because the Iranian backed Hezbollah militant group and its ally MP Michel Aoun's Change and Reform bloc MPs boycotted the sessions.
LBCI TV reported that only 54 lawmakers out of 128 attended the session.
Speaker Nabih Berri who originally scheduled the next elections session for November 19 did not attend the session in order for him to chair his weekly meeting with MPs at his Ain el-Tineh residence later on Wednesday
Lebanese Forces leader Samir Geagea, the first to announce his presidential candidacy, had previously accused them of adopting such tactics in to order to blackmail political blocs into electing Aoun as president.
Commenting on the failure to hold the elections, Geagea said: "We will continue on heading to the elections sessions as a sign of our commitment to constitutional measures and the Lebanese system."
During a press conference he accused Hezbollah and Aoun of obstructing the polls, adding: "I used to think that the obstruction was aimed at achieving personal gains, but I am beginning to question this."
"The ongoing obstruction is no longer a political maneuver, but an attempt to target Lebanon's political system," Geagea said stressing that Hezbollah and Aoun are violating the principles spelled out in the constitution on staging the presidential elections.
Commenting on the deteriorating security situation in the country and the issue of the captives by the Syrian militants Geagea said :
"Hezbollah's withdrawal from Syria will restore the security situation and resolve the case of Arsal captives."
He accused Hezbollah of pushing the Sunni Lebanese to take extremist positions.
"The actions of some sides in Lebanon are pushing the Sunnis to take extremist positions"
He praised former PM Saad Hariri's position with regards to the recent unrest in Tripoli
" I hail the moderate stance expressed by MP Saad Hariri."he said
Hariri and his future movement sided with the Lebanese army in its clash against the mostly Sunni militants in Tripoli
This error message is only visible to WordPress admins
Error: No connected account.
Please go to the Instagram Feed settings page to connect an account.