Brazil Stock market, currency tumble on Rousseff's victory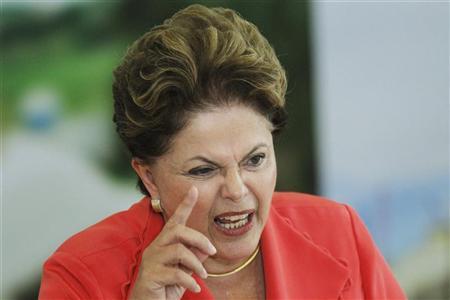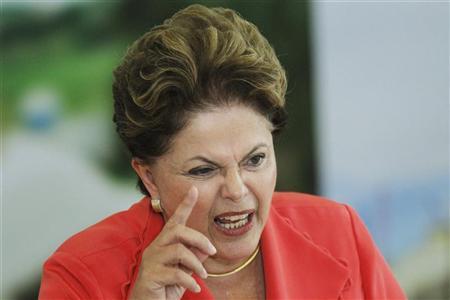 Brazil's benchmark equity index tumbled, approaching a bear market for the second time this year, as President Dilma Rousseff's re-election damped speculation for a change in policies that wiped out $553 billion of stock market value and left the economy in recession.
The Ibovespa dropped 4.8 percent to 49,473.91, leaving it down 20 percent since reaching a bull-market high on Sept. 2, while the real posted the world's biggest drop as it sank 2.6 percent to a nine-year low. Shares of state oil company Petroleo Brasileiro SA (PETR4) tumbled 15 percent.
"There's going to be enormous disappointment in the markets that we have not had an opposition victory," Geoffrey Dennis, the head of emerging-market strategy at UBS AG, said in a telephone interview.
The Ibovespa (IBOV) equity gauge had rallied 16 percent from this year's low in March amid bets that Senator Aecio Neves would unseat an incumbent who oversaw the slowest growth of any Brazilian president in two decades as inflation accelerated past the top end of policy makers' target. Rousseff, who has maintained record low unemployment even as the economy recorded the slowest growth under any Brazilian president in more than two decades, had 52 percent of the vote with 99.99 percent of ballots counted by the electoral court in Brasilia.
The Ibovespa last entered a bear market in March as Rousseff's attempts to shore up growth through subsidized credit from state-run banks and tax cuts on consumer goods failed to avoid a slowdown, then moved back into a bull market in May after polls showed the incumbent losing voter support. After rising to a 20-month high in September, stocks retreated after new surveys showed Rousseff rebounding.
Volumes Surge

The real's plunge to 2.5444 per dollar put it at the weakest level on a closing basis since April 2005. One-month implied volatility on options for the real, reflecting projected shifts in the currency, was the world's highest. The currency sank 12 percent in the past three months.
"The natural reaction by investors, at this moment, is to sell, with considerable nervousness prevailing," Camila Abdelmalack, an economist at CM Capital Markets in Sao Paulo, said in a telephone interview.
The iShares MSCI Brazil Capped ETF dropped 9.6 percent to $37.60 in pre-market New York trading, while the Lyxor ETF Brazil Ibovespa ETF (RIO) declined 12 percent in Paris, the biggest intraday slide since October 2008, with volume more than four times the three-month daily average. The NEXT Funds Ibovespa Linked ETF (1325) declined 6.8 percent at the close in Tokyo, the biggest loss since September 2011, on volume exceeding 12 times the average.
Finance Minister

Throughout the campaign, Brazil's stock market and currency retreated when polls indicated Rousseff might win, including a 6.8 percent drop in the Ibovespa during the final week as polls showed her support rising. Neves, who had pledged to cut public spending and attract more private investment, said in his concession speech that he phoned Rousseff to congratulate her on the victory, calling on the president to unify the country.
Rousseff defended her economic performance by saying she preserved jobs in the face of the global economic crisis. While the economy entered recession in the first half of this year, September's 4.9 percent unemployment rate was a record low for the month. Real average income has risen 10 percent during Rousseff's tenure and 33 percent in the past decade.
Credit-default swaps insuring Brazil's debt against non-payment rose five basis points today to 170 basis points, according to prices in New York compiled by Bloomberg. The contracts have risen from the year's low of 124 basis points on Sept. 3.
Bond Prices

Brazil's benchmark dollar bonds due 2025 fell 0.47 cent to 100.85 cents on the dollar while yields on local fixed-rated notes due 2023 rose 0.61 percentage point to 12.65 percent.
Investors will turn their focus to Rousseff's choice for finance minister, said Frederico Sampaio, the chief investment officer of Franklin Templeton Investments Brazil, which manages about $900 million. Rousseff has said that her new government will have a fresh team, including a replacement for Finance Minister Guido Mantega.
The president's fiscal policies fueled Brazil's first sovereign rating cut in more than a decade, while the government's attempts to control inflation by intervening in state-run companies sapped profits at Petrobras and electric utility Centrais Eletricas Brasileiras SA. (ELET6)
Bloomberg