Iran vows to aid Lebanon army and Hezbollah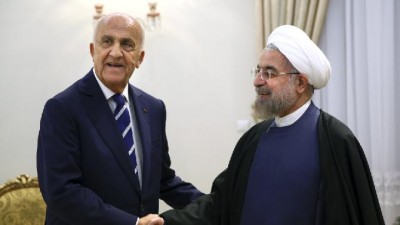 Iran said Sunday it is ready to provide aid to the Lebanese army as well as the Shiite Hezbollah group to help combat "terrorists."
The promise of aid comes after Iran's regional rival Saudi Arabia pledged billions of dollars to Lebanon's armed forces, and will be seen by many Lebanese as part of a competition for influence over the tiny country, which is gripped by sectarian tensions and bitterly divided over the Syrian civil war.
Ali Shamkhani, secretary of Iran's Supreme National Security Council, was quoted by state TV as saying that "supporting the Lebanese nation, army and resistance will still remain on Iran's agenda." Hezbollah's allies refer to it as the "resistance" because of its stated mission of driving Israel out of occupied territory.
"Iran is ready to transfer its experience in order to improve security in Lebanon and the region, and to combat terrorists," he said during a meeting with visiting Lebanese Defense Minister Samir Moqbel. Moqbel also met with Iranian President Hassan Rouhani.
Iran is a main backer of Hezbollah, which is widely seen as being more powerful than the Lebanese army.
Iranian Defense Minister Brig. Gen. Hossein Dehqan has said Tehran is ready to provide modern military equipment and strategic assistance to the Lebanese army to help it combat Sunni extremists.
During a meeting with Moqbel on Saturday, Dehqan said such aid would have the aim of "consolidating national authority and reinforcing security in Lebanon."
Shamkhani visited Beirut last month, where he exchanged views with senior Lebanese officials on ways to bolster bilateral defense cooperation.
The civil war in neighboring Syria has left Lebanon deeply divided, with Sunnis supporting the Sunni-led rebels and Hezbollah sending fighters to bolster President Bashar Assad's forces. In August the violence spilled across the border when Syrian militants briefly overran the border town of Arsal, killing and kidnapping several Lebanese soldiers and police.
Iran's regional rival Saudi Arabia has promised $3 billion to the Lebanese army via France. Many Lebanese fear involvement by the two countries could further exacerbate sectarian tensions. Lebanon's army, particularly its intelligence unit, is seen by many Sunnis as partial to Hezbollah.
The U.S. has also been undertaking speedy weapons deliveries to Lebanon, to help it combat the threat posed by the Islamic State extremist group.
List of arms
The Iranian media Sunday reported that Tehran would provide the Army with semi- heavy machine guns and ammunition, 120 mm mortars, 120 mm ammunition, 60 mm ammunition, TOW anti-armor missiles, TOW rockets, 155 mm artillery shells, night vision goggles, and T-55 and T-62 tank ammunition.
ABC/AP/ Iran media