Jumblatt, Geagea met to discuss the army and presidential impasse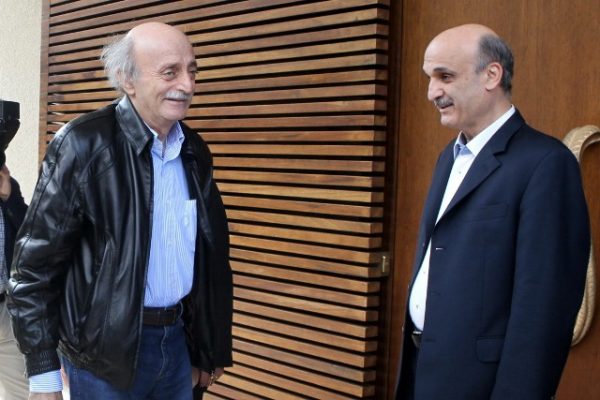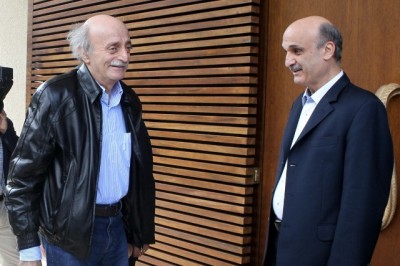 Progressive Socialist Party chief MP Walid Jumblatt  visited on Friday Lebanese Forces leader Samir Geagea at his residence  in Maarab, accompanied by MPs Ghazi Aridi, Henri Helou and Nehme Tohme from his parliamentary bloc .
They were welcomed by LF l MPs Sethrida Geagea and Antoine Zahra  who attended .
The meeting which was also attended by  LF  MPs Sethrida Geagea and Antoine Zahra    lasted  for 3 hours and included a working lunch .
Jumblatt left Maarab without talking to reporters
They reportedly discussed an initiative to preserve state institutions, mainly the Lebanese army.
Jumblatt has been meeting  top Lebanese officials to discuss with them the support for the military, which is facing the growing threat of terrorists, and ending the 5-month-old deadlock over the presidential election
An LF statement  that was issued following the meeting said  that both sides exchanged books as gifts .
The statement quoted Geagea s saying:
" The meeting with Jumblatt was meant to discuss things more than the presidential elections. As long as the other party is adamant not to change its position regarding the presidency, nothing will change."
Jumblatt was  quoted as saying:  "The talks were frank and positive with the chief of the LF party and there were points of agreement and contention, but in the end  dialogue is the only way".
PSP MP Alaaeddine Terro earlier said the meeting was part of Jumblatt's effort   to speed up the presidential election "in light of the difficult circumstances the country is passing through."
"A country cannot survive without a head of state," Terro said in remarks  published Friday by the local daily Al-Joumhouria ahead of the Jumblatt-Geagea meeting.
Terro stressed that Jumblatt's Democratic Gathering parliamentary bloc remained committed to supporting Helou's candidacy.
The Lebanese parliament failed in early October and for the 13th time in a row to elect a president to replace Michel Suleiman whose term ended on May 25.
As in the past sessions the parliament was unable to reach a quorum because the Iranian backed Hezbollah militant group and its ally MP Michel Aoun's Change and Reform bloc MPs boycotted  the sessions.
Speaker Nabih Berri adjourned the session on the election of a president to for October 29 after the lack of quorum.