4 Senior Iranian police officers killed in a plane crash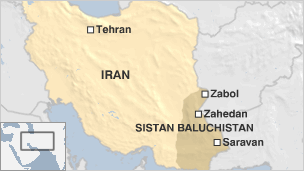 An Iranian police plane crashed late on Saturday killing four high-ranking officers investigating the deaths of police in a province that borders Pakistan and Afghanistan, state news agency IRNA reported.
Three crew also died in the crash, underscoring concerns about Iran's ageing aircraft fleet which Tehran has been unable to modernize due to international sanctions.
All seven on board perished when the twin-engined turbo-prop Commander aircraft went down in the mountains outside Sistan-Baluchistan's capital of Zahedan, IRNA said.
Two generals including Mahmoud Sadeghi, a senior officer in charge of investigations, and a colonel, were among the dead, Fars news reported.
The police were traveling from Tehran to investigate the killing of four Iranian police officers in the province.
Impoverished and relatively lawless Sistan-Baluchistan has been plagued by unrest from disgruntled Sunnis and is rife with drug and arms traffickers.
The wreckage of the aircraft has been found but the cause of the crash remains unknown, IRNA said.
Iran's airlines have been plagued by crashes, which Tehran blames on international sanctions imposed over Tehran's disputed nuclear program . The measures prevent firms from replacing their ageing fleets. About 22 crashes involving Iranian aircraft were reported from 2000 to August 2014.
Most recently, at least 39 people were killed in August when an Iran-140 Sepahan Air passenger plane crashed after take-off from Tehran's Mehrabad airport.
Gulf News