Bahrain's Shi'ite opposition will boycott election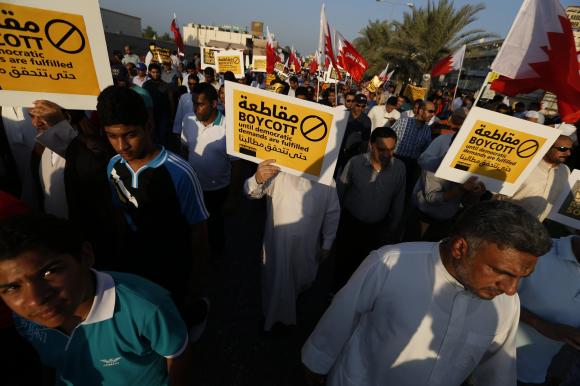 Four opposition groups including the largest, Al Wefaq, will boycott a parliamentary election scheduled for November in Bahrain to protest what they described as a vote where the results would be "fully controlled by the ruling authority".
Wefaq, which has strong links to Bahrain's Shi'ite majority, confirmed on Saturday the opposition would not take part in the poll because the elected parliament will not have enough power and because voting districts favor the Sunni minority.
"Any elections process without a peaceful transfer of power within a system of constitutional monarchy, which is the current situation, will be unilaterally run and based on an unfair electoral system," the opposition groups said in a statement.
Information Minister Samira Rajab did not respond directly to the charge when contacted by Reuters, but referred to her statement on state media on Friday in which she said that all segments of Bahraini society were able to take part in the poll.
She said in the remarks carried by Bahrain News Agency that groups which boycotted elections continued to take part in politics in other ways, such as through municipal councils.
"They tend to raise the banner of a boycott in an attempt to open the door to foreign interference in our domestic affairs," she was quoted as saying by BNA.
The opposition also accused the authorities of using immigration to change the country's sectarian balance in order to boost support for the Sunni al-Khalifa ruling family, a charge the government has always denied.
Wefaq in May threatened to boycott the election, which has been set for Nov. 22, but continued to take part in sporadic reconciliation talks with the government.
Bahrain has been shaken by persistent unrest since mostly Shi'ite Muslim demonstrators, who complain of political marginalization, took to the streets in February 2011 to call for greater democracy.
Stalled reconciliation talks between the al-Khalifa and the Shi'ite opposition were revived early this year but later appeared to stall following prosecutions of Wefaq officials on a variety of charges.
In July the government went to court to try to suspend Wefaq's activities, saying it had broken both the law and its own statutes, a move the group's leader Sheikh Ali Salman described as an attempt to force it to take part in the coming election. A verdict has not yet been reached.
Bahrain, an ally of fellow Sunni monarchy Saudi Arabia and home to the U.S. Fifth Fleet, accuses Shi'ite Gulf power Iran of stirring its unrest and says it has made many reforms since 2011. Iran denies those charges.
Shi'ite activists say members of the majority sect are subjected to systematic political and economic discrimination, a charge the government denies.
Reuters