Obama administration is divided over creation of a Syria buffer zone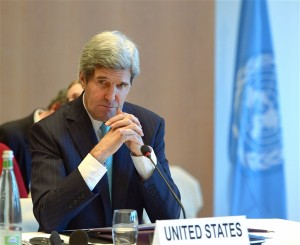 Leaders of a global coalition to defeat the Islamic State group were divided Wednesday over creating a buffer zone to protect Syrian refugees and bolster Turkey's borders — a key demand by Ankara as Turkey weighs stepping up action against the extremists.
The split also was evident among U.S. officials. Secretary of State John Kerry said a buffer zone is "worth examining" but stopped short of embracing it. At almost the same time, however, the Pentagon said it is not considering supporting a buffer zone — a sentiment quickly echoed by the White House.
British Foreign Secretary Philip Hammond, appearing with Kerry in Washington, said he would not rule out the possibility of creating a buffer zone at this stage. And French President Francois Hollande issued a statement in Paris announcing his support for a buffer zone between Turkey and Syria to take in and protect refugees.
The issue comes as the U.S. is prodding Ankara to ramp up action against the Islamic State militant group, which is closing in on the Syrian town of Kobani that sits on Turkey's border. Turkish President Recep Tayyip Erdogan has long called for the creation of a buffer zone inside Syria, as well as a no-fly zone to secure Turkey's borders and stem the flow of refugees.
But the Pentagon has maintained that doing so would be costly and controversial.
Asked after an hour-long meeting if they could support a buffer zone, Kerry and Hammond both agreed that it first would need to be carefully examined, including with other nations, to see how it would work.
"But I certainly wouldn't want to rule it out at this stage," Hammond said.
Kerry said the issue would be raised later this week at a meeting of U.S. officials and Turkish leaders in Ankara. "It's worth examining. It's worth looking at very, very closely," Kerry said.
Within minutes, Pentagon press secretary Rear Adm. John Kirby separately told reporters that a buffer zone "is now not on the table as a military option that we're considering." And White House spokesman Josh Earnest said a buffer zone isn't under consideration.
"That said, it's a topic of continued discussion," Kirby said.
ABC/AP