ISIS captive Peter Kassig went to Lebanon to help Syrian refugees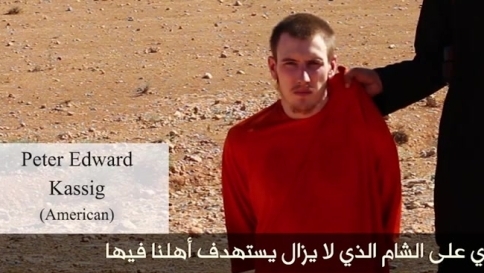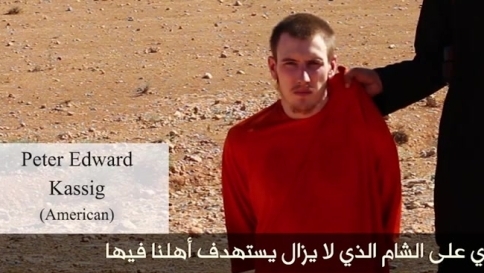 The Islamic State terror group identified its next target on Friday, a former U.S. Army Ranger who was captured in Lebanon last year during a relief mission to help Syrian refugees.
Peter Edward Kassig, 26, first visited Beirut on a college spring break trip. What the Indiana native saw there prompted him to return, the next time as a medical assistant and humanitarian worker hoping to offer blankets, food and medical care to victims of the region's conflicts.
Kassig founded a nongovernmental organization that provided aid for refugees fleeing the civil war in neighboring Syria. But his work in Lebanon led to his capture by militants on Oct. 1, 2013, while en route to eastern Syria.
Kassig appeared in an online video that purported to show a masked militant who threatened to behead the Army veteran next, after the apparent beheading of British hostage Alan Henning. The gruesome video was released in the same manner as other Islamic State group recordings and the masked militant sounded similar to the one who carried out other slayings.
In a statement issued Friday evening, National Security Council spokeswoman Caitlin Hayden confirmed that Kassig was being held by Islamic State militants.
"At this point we have no reason to doubt the authenticity of the video released earlier today. We will continue to use every tool at our disposal — military, diplomatic, law enforcement and intelligence — to try to bring Peter home to his family," Hayden said.
The video and threat were a heartbreaking development for Kassig's family and friends, who have stayed silent since his capture while working to secure his release.
Kassig's parents issued a statement Friday describing their son's work and asking for privacy.
"We ask everyone around the world to pray for the Henning family, for our son, and for the release of all innocent people being held hostage in the Middle East and around the globe," the statement said.
According to his parents, Kassig, an Indianapolis native, converted to Islam while in captivity and now goes by the name Abdul-Rahman.
Kassig enlisted in the Army in 2004, and became a Ranger, ultimately serving in the 75th Ranger Regiment, an Army special operations unit, according to his military record.
He trained at Fort Benning, Georgia, in 2006, and deployed to Iraq from April to July 2007. He was medically discharged at the rank of private first class in September 2007.
In a January 2013 interview with Time, Kassig said he traveled heavily throughout Lebanon to assess the needs of people there.
He said he designed his aid organization, Special Emergency Response and Assistance, or SERA, around a belief that "there was a lot of room for improvement in terms of how humanitarian organizations interact with and cooperate with the populations that they serve."
SERA, he said, focused on supplementing the work of larger organizations by delivering aid that could "do the most good for the most people over the longest period of time possible."
"It's about showing people that we care, that someone is looking out for those who might be overlooked or who have slipped through the cracks in the system for whatever reason," he said.
SERA has since suspended its efforts while Kassig's family has worked to win his release.
Indiana Gov. Mike Pence asked for prayers Friday for Kassig and his family during "this unspeakably difficult time."
This is the fourth such video released by the Islamic State group, also known as ISIS or ISIL. The full beheadings are not shown in the videos, but the British-accented, English-speaking militant holds a long knife and appears to begin cutting the three men, American reporters James Foley and Steven Sotloff and British aid worker David Haines.
ISIS has its roots in Al Qaeda's Iraqi affiliate but was expelled from the global terror network over its brutal tactics and refusal to obey orders to confine its activities to Iraq. It metamorphisized amid the bloody three-year civil war in neighboring Syria, growing stronger to the point of being able to launch a lightning offensive across much of northern Iraq, routing security forces there.
The extremist group has been widely denounced by mainstream Muslim authorities.
Other foreigners are believed held by the Islamic State group. On Friday, the father of John Cantlie, a British photojournalist held by the group, appealed for his release in a video, saying he was a friend of Syria.
Fox News