Lebanon FM did not inform PM Salam about his meeting with Syrian FM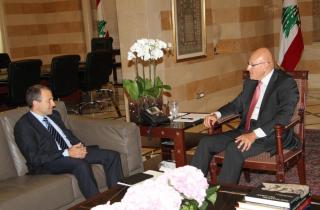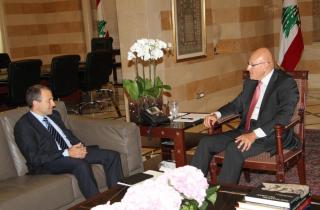 Lebanese Prime Minister Tammam Salam revealed during an interview with Al-Hayat newspaper that Foreign Minister Gebran Bassil did not inform him of his meeting with his Syrian counterpart Walid Muallem nor did he convey to him anything relating to that meeting.
Bassil is the son-in-law of Free patriotic Movement leader MP Michel Aoun, a close ally of the Iranian backed Hezbollahmilitant group and the Syrian regime
Tammam also told the daily that he asked Iranian President Hassan Rouhani for "Iran's help in holding presidential elections because a vacant presidency weakens the country."
Salam who took part in meetings of the General Assembly of the United Nations said prior to leaving New York that Turkish President Recep Tayyip Erdogan promised to help in trying to secure the release of the Lebanese soldiers and policemen kidnapped by Syrian gunmen who are linked to the Islamic State (IS) and Jabhat al-Nusra] terrorist organizations. He also indicated that Qatari mediation in this regard was ongoing and that Emir Tamim bin Hamad Al Khalifa promised to accelerate the negotiation process.
Salam also affirmed that major international and regional powers all wanted to maintain Lebanon's integrity, and did not want to expose it to any dangers, adding that he raised the issue of continued support to Lebanon with US President Barack Obama.
The Inerview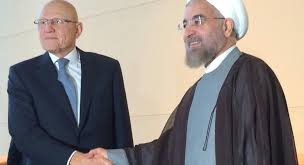 Al-Hayat:   You met with Iranian President Hassan Rouhani and must have raised Lebanon's policy of dissociation with him. Did this occur and how was the issue discussed?
Salam:  The issue of dissociation was not discussed. As a regional power, the focus was on Iran's support for Lebanon and Tehran's help in overcoming our current crisis, considering that Iran played a role in the formation of the government six months ago.
Al-Hayat:  Did you ask for President Rouhani's help to facilitate the holding of presidential elections?
Salam:  Yes. I told him that Iran should help in this regard, because the presidential vacancy and status quo have weakened the country.
Al-Hayat:  Did he promise anything?
Salam:  No promises were made, but, of course, viewpoints were discussed and positions clarified, though none were linked to clear promises or actions. They were merely wishes that President Rouhani was made aware of.
Al-Hayat:  In other words, you expressed desire that he intercede with Hezbollah and Speaker Nabih Berri in order for presidential elections to be held?
Salam:  No, I did not discuss this issue, nor did I delve in the details thereof. But, I did make him aware of the need for Iran to persevere and maintain its support for Lebanon in a positive and constructive manner, aimed at all the Lebanese and not just one particular faction. For Iran is a regional power that should not be allied with one faction at the detriment of others in a country such as Lebanon.
Al-Hayat:  Did you discuss with him the issue of Hezbollah's involvement in the war and military operations in Syria?
Salam:  No, it is not my place to discuss such matters. I am a government official and as such do not represent a political party and therefore must discuss matters that bolster the state's all-encompassing presence and national role.
Al-Hayat:  But, in your speech, you talked about maintaining Lebanon's neutrality and adopting a policy of dissociation.
Salam:  That is true.
Al-Hayat:  Why then did you not discuss the issue with President Rouhani?
Salam:  There is no need for me to discuss all issues with President Rouhani. I conferred with him about issues that I thought might be beneficially supportive to Lebanon. The dissociation policy that you referred to is an adopted and employed stance. But, there is still some dissonance that must be overcome between the things that we make public and the things that we actually adopt and implement.
Al-Hayat:  Did he make any requests or raise any specific issues? From his point of view, what were the priorities?
Salam:  From his viewpoint, he was keen on expressing Iran's commitment to Lebanese national unity in the face of the prevailing dangers and events at this juncture.
Al-Hayat:  Did you discuss the international alliance against IS and Lebanon's role, or lack thereof, in said alliance?
Salam:  No. They have an opinion concerning the alliance, as they do concerning terrorism. They knew about the dangers of this phenomenon before anyone else and since nobody listed to them and what is occurring today is the repercussions thereof. Such is their position.
Turkey, Qatar and Mediation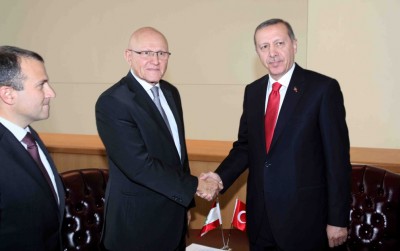 Al-Hayat:  What did Turkish President Recep Tayyip Erdogan promise? Is Ankara ready to play a role in securing the release of the kidnapped soldiers?
Salam:  I discussed this issue with him; particularly in light of the release of the Turkish hostages . He was understanding and promised to help as soon as he returned to Turkey.
Al-Hayat:  Does that mean that Turkey will mediate?
Salam:  We did not go into the details, but his position was clear.
Al-Hayat:  Is Qatar mediating?
Salam:  Yes, it is.
Al-Hayat:  In coordination with Turkey, or through other channels?
Salam:  This is up to Turkey and Qatar. During the dinner that he hosted, the emir of Qatar and I discussed the issue, which he expressed great interest in, and he decided to make a few calls in order to accelerate the process.
Al-Hayat:  Calls to whom?
Salam:  His own officials; in order to move matters along.
Al-Hayat:  Does that mean that Qatar's role is limited to the Nusra Front, and that of Turkey to IS?
Salam:  That is up to them. But we have had experiences with Qatar and Turkey in the past, when both cooperated with us and played an effective role in solving the Azaz hostage issue and freeing the Maaloula nuns, later on. How they cooperate and communicate with the kidnappers is a highly delicate and sensitive issue; the details of which must necessarily not be divulged.
Al-Hayat:  The principle of securing a swap is acceptable to you then, Mr. Prime Minister?
Salam:  I am with the principle of negotiating. Where those negotiations lead and how they progress is a matter that takes time and cannot be easily decided. These are complex interrelated matters and we must take into account everything related to the results of such negotiations. But, the details are time-consuming and the issue cannot be resolved instantaneously; it is highly complex, as I said.
Al-Hayat:  Sayyed Hassan Nasrallah said that he is for negotiating. Mr. Walid Jumblatt concurred, if certain conditions are met. While your interior minister said that a swap was possible. What is your position in that regard?
Salam:  As you know, we are part of a coalition government that includes all political factions that will participate in any decision that is taken. All decisions must occur under the auspices of the Council of Ministers and agreed upon by all the parties. It would be useless if the issue led to an internal rift. As such, the issue is being approached while keeping this concern in mind. From my centrist position, I am trying to bring all the parties' opinions closer together, in order to provide the best opportunities and circumstances for success and the recovery of the kidnapped soldiers. But, the issue is sensitive and requires a great deal of attention. I hope that it remains shielded from any kind of political rivalry or one-upmanship, from any of the internal or external political factions, while keeping the matter isolated from the ongoing political struggle that the country suffers from.
Refugee Camps
Al-Hayat:  The so-called experimental camps in the north of Lebanon — for example, at the border crossing between Lebanon and Syria. Are these actually being implemented? Are you in the process of erecting such camps?
Salam:  The issue is under discussion and requires a lot of preparation. Its requirements for success are still lacking, but it is being reviewed and discussed.
Al-Hayat:  Did you discuss the issue here at the United Nations? In other words, did you seek financing for the establishment of a few such camps?
Salam:  International organizations are not very keen on establishing camps in the buffer zone between the Lebanese and Syrian border. They say that past similar experiences in other countries were not successful, and they therefore do not endorse such schemes.
Al-Hayat:  What alternative do they propose?
Salam:  They propose the continued support of refugees inside the country. But we have recently called on them to adopt a different methodology, whereby the supportive environment, meaning the Lebanese people and government, be offered backing, just as the Syrian refugees are helped.
Al-Hayat:  The Arsal refugees, then — will a different approach be adopted in their regard?
Salam:  The situation relating to the Arsal refugees is unique. Arsal itself has 35,000 Lebanese inhabitants, while the number of Syrian refugees there has surpassed 100,000 , we must help the inhabitants of Arsal and the refugees as well, though not at the expense of the former, or at the expense of Lebanon and the Lebanese receiving aid.
Al-Hayat:  Now that UN troops have vacated the Golan, there is another entryway that some fear could provide safe passage for terrorists to enter Lebanon — namely the Mount Hermon, Hasbaya and Shebaa area. Do you have any plans to address this situation?
Salam:  As you know, this issue has gained momentum over the last three years and particularly over the past few months. Yes, we are endeavoring to be prepared on a state level, particularly through the army, to confront all eventualities that might contribute in undermining the internal security situation, as was the case in Arsal and other potential areas. Yes, there are dangers lurking in other border regions, as well as potential internal dangers in areas with a heavy Syrian refugee presence. The needs of those refugees and them sharing many aspects of their lives and livelihoods with the Lebanese is bound to cause some sensitivities. Yet, we must remain prepared to address such problems.
Al-Hayat:  These was a letter from the Syrian National Coalition to the United Nations that condemned members of the Lebanese army and denounced security-oriented actions taken against refugees.
Salam:  This was not the first such letter. But what concerns us in the matter is ensuring that the conduct of our armed forces maintains everyone's safety and security. Yet, the presence of Syrian refugees must not be exploited by terrorist factions to target our army. This requires assertive and firm actions so that the army not be taken lightly, without precluding maintenance of a high level of responsibility in dealing with any person, be they a refugee or ordinary citizen.
Al-Hayat:  Did you meet with anyone from the Syrian National Coalition during your stay in New York?
Salam:  No, in keeping with the policy of dissociation, we cannot meet with the Syrian coalition nor the Syrian regime.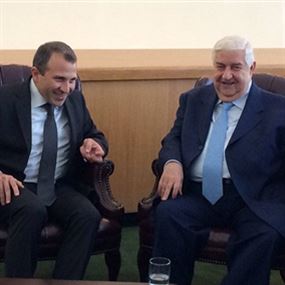 Al-Hayat:  But Foreign Minister Gebran Bassil met with his Syrian counterpart Walid Muallem.
Salam:  That is true and it falls upon him to say why that occurred and in what context.
Al-Hayat:  He surely informed you of that. You did come here as part of the same delegation, did you not?
Salam:  He has his own political agenda and belongs to a certain political faction. His actions were not officially commissioned nor mandated.
Al-Hayat:  Minister Bassil did not inform you of what transpired in the meeting then?
Salam:  No, he did not.
Al-Hayat:  As a result, you are not aware if the Syrian government asked Lebanon to endorse specific actions, such as mutual coordination for example?
Salam:  He would probably inform me of such requests. But he did not talk to me at all about the meeting.
Al-Hayat:  Do you object to the Syrian National Coalition sending a letter to the UN condemning the Lebanese army?
Salam:  Every faction, group and political entity must do as it deems fit to protect its own interests. But our reactions must focus on safeguarding our national unity and the strengthening of the Lebanese army's ranks.
The meeting with Hollande
Al-Hayat:  You also met with French President Francois Hollande. Will the tripartite [arms] agreement between Saudi Arabia, France and Lebanon be implemented?
Salam:  We hope that it will be. But the issue ultimately is one that Saudi Arabia and France must agree upon. In this tripartite agreement, as you called it, Lebanon is the receiving party but is not one that decides how the agreement is to be implemented, except to submit a list of our military needs. The French and Saudis must work together in order to make this agreement come to fruition.
Al-Hayat:  Did you ask France to help resolve the presidential elections conundrum?
Salam:  I have asked all Arab, regional and international nations with whom I have met for help in making the presidential elections a reality. On previous such electoral occasions throughout the years outside influence played an effective role to varying degrees, but that role always favored electing a president. We did not spare any effort in asking everyone for help in that regard.
Al-Hayat:  Does that include the Vatican Secretary of State Cardinal Pietro Parolin? Did you ask him to put pressure on the Christians in order to elect a president?
Salam:  Absolutely. I explicitly and openly asked everyone for help.
Al-Hayat:  Hezbollah objected and criticized the countries taking part in the alliance against IS, while Foreign Minister Gibran Bassil participated in the Jeddah and Paris meetings that established the international alliance. What is the state's position and role vis-à-vis the alliance?
Salam:  As a state, we are hurt by terrorism and terrorists and must therefore spare no effort in cooperating with any faction that aims to thwart terrorism and terrorists. But, it is clear that the coalition of which you speak, and which held its first meetings in Jeddah and Paris, took operational steps to confront terrorism, particularly through direct attacks against IS and al-Nusra Front. For our part, we lack the capacity to embark on such a move and must content ourselves solely with modest defensive measures to repel any attack perpetrated by the terrorists against us. We lack the capacity to match the offensive scope of our countries.
Meeting with Kerry
Al-Hayat:  We know that the alliance's focus is on Iraq and Syria. Yet, Lebanon is also mentioned as a country threatened by IS. What did you discuss with American Secretary of State John Kerry in this regard? Did you receive assurances that Lebanon would be included in defensive or offensive operations, or the campaign to destroy IS?
Salam:  The US, the major world powers and regional countries all agree on the need to maintain the integrity and security of Lebanon, as well as protect it from danger. This consensus takes on many forms, such as direct aid to the Lebanese army or support to the government or democratic system of the country. It also takes on the form of coordination between the countries and their commitment to carry on their confrontation against terrorism, while maintaining Lebanese sovereignty. But, it falls upon us, the Lebanese, to strengthen our national unity and overcome our internal political differences and conflicts, so that we may remain able to keep pace with these dangerous times and fast and unpredictable developments that are occurring in the region.
Al-Hayat:  What did you and Kerry agree on? You met on several occasions and you also had a short meeting with President Obama. Concerning Lebanon, what did you agree upon in your work session with Kerry? Will you have an intelligence, coordinative or other role to play? What did you agree upon?
Salam:  In our meeting with Secretary of State John Kerry, other American officials as well as President Obama, during the reception that he hosted where I had the chance to talk to him briefly, we asked them to maintain their commitment toward supporting and providing the Lebanese army with its weapons needs, as they quickly did during our latest confrontation with terrorism. We also requested that they continue to back us materially and financially, for our needs are great in confronting the issue of Syrian refugees, whose numbers now exceed one-third of Lebanon's population — an unprecedented development in any country of the world which requires the supportive efforts of a major power such as the United States. They offered significant financial aid, all of which though was destined to help the refugees. In that regard, we also want aid to be given to the host state and people.
Al-Hayat:  Prime Minister, do you fear that the alliance's operation in Syria will transform Lebanon into a corridor for IS operatives and an intelligence base for them to relocate to, whether by a decision from IS itself or even by the Syrian regime, to smother Lebanon and relieve the pressure that Damascus is feeling?
Salam:  That fear remained present throughout many of the mostly violent developments currently underway in the region. As you well know, the terrorists toppled states and communities, as well as dislodged whole peoples. No one should take that lightly.
Al-Hayat:  You fear then that Lebanon will be transformed into a corridor for terrorists?
Salam:  Yes, Lebanon faces many dangers, but I reiterate that our internal unity will protect us from all these dangers. Otherwise, Lebanon is truly in dire straits.
Al-Hayat:  Some claim that had you really observed the dissociation policy and Hezbollah refrained from interfering in the Syrian war, then IS would never have come to Lebanon.
Salam:  This subject is viewed differently by different people and all these views are accurate and sensitive. We want to come out of this with something that unites instead of divides us. This is not the time to settle past accounts between this or that faction, or the time to blame this or that faction for past mistakes. The important thing now is to put an end to any dangers or trespasses that occur here or there, and restore internal cohesion
Al-Hayat:  In your meeting with Russian Foreign Minister Sergei Lavrov, did you ask him to put pressure on their ally in Damascus, in order to prevent it from taking measures to smother or exploit Lebanon, or push IS into the country to relieve pressure on the regime in Damascus?
Salam:  Of course I did, that is the least I could ask for and I also asked all other countries to help us in this regard.
Al-Hayat:  What did he say?
Salam:  He expressed every desire and readiness to back Lebanon and prevent anything from occurring that would, God forbid, weaken, destabilize, or lead to the collapse of the country.
Al-Hayat:  I understand that you sensed the presence of an international consensus to safeguard Lebanon and maintain its integrity. Yet, you always seem worried, why? Is it because you were not given any assurances or guarantees?
Salam:  No, the reason is because the storm hitting the region today is intense and widespread to the point that its winds might change direction unexpectedly. Such is the nature of storms, they move in a manner that sometimes precludes accurate predictions, leading to regions being damaged and people hurt. In this case the whole region is in danger.
Al-Hayat:  Very well. But, is IS widespread in Lebanon?
Salam:  Not at all. The issue is not how widespread it is, or how much extremism there exists in Lebanon. Our society is intolerant toward extremism and Lebanon is not an incubator of extremism or terrorism; it never was, nor will it ever be. Yet, Lebanon is undergoing a political crisis that is not helping much and we therefore hope that all Lebanese political forces, and not just international or regional countries, come to this realization. We must help ourselves through our own volition.
Al-Hayat:  But this is a failing; an inability on your part to implement the decisions that you take. You, as a state, took a decision to dissociate yourselves, but you failed to implement said decision.
Salam:  To this day, no one can say that we are unable to protect Lebanon or keep the country united. On the contrary, we as a coalition government and with the concerted efforts of all political parties, are still endowed with a modicum of imperviousness as we seek to implement the dissociation and other policies and commitments. But, that does negate the fact that dangers still exist, and these dangers motivate all political parties into being extra vigilant and aware.
Support group
Al-Hayat:  Many ministers pledged to help Lebanon at the international support meeting; this must have been something that pleased you. Did you sense that you should adopt new policies or plans in order to deal with the issue of refugees and move forward in safeguarding and isolating Lebanon from the events taking place in its neighborhood?
Salam:  No doubt, there was a lot of talk and commitment offered to support and bolster Lebanon. We must assess the feasibility of these meaningful, encouraging and reassuring words. But implementation thereof is a different matter requiring money, materiel, capabilities and anything else that may help Lebanon cope with the refugee, as well as the other crises, affecting the region.
Al-Hayat:  Does that mean new ideas relating to the border region? [United Nations Interim Force in Lebanon] UNIFIL forces are present along the border with Israel. Some have talked about expanding the role of those forces to encompass the border with Syria. Is this something that you discussed with the secretary-general of the UN?
Salam:  No, that was a highly problematic political proposal submitted by a certain political faction in Lebanon. We are not at a point where we would ever discuss this issue with Ban Ki-moon. We thanked the secretary-general and the UN for sending the UNIFIL forces to help ward off dangers on one of our fronts at least — namely the southern border. I hope that we will be able to protect our other borders through our solidarity and internal unity.
Al-Hayat:  What do you carry back with you to Lebanon as a result of your international discussions? Do you have anything new in the way of confronting the dangers that you mentioned? Any new specific measures that go beyond mere wishes for all [internal] factions to reconcile? You are the prime minister, and you can tell people that this is what you think the country must do.
Salam:  I am the prime minister and in my capacity as head of the coalition government I must always take into account the fact that there are dangers requiring vigilance on our part. Said vigilance demands a modicum of agreement between the political parties. I cannot only rely on the things that I hear and the support that I receive from countries of the world. Although support is needed and requires follow-up; in itself, it is not sufficient if we the Lebanese are not united to take advantage of said support.
Al-Hayat:  You met with Egyptian President Abdel Fattah al-Sisi, and I heard that you expressed desire to mediate between him and Turkish President Recep Tayyip Erdogan. Is that true?
Salam:  As responsible people in these critical and chaotic circumstances in the region we must always seek to bridge the gap in points of view and repair relations between countries. In my opinion, good relations between Egypt and Turkey will be beneficial to all in the region. I spoke of that with Presidents Erdogan and al-Sisi and I hope that that this issue will be given further attention, [but that will] require added effort that I myself will follow up on in the hopes of ensuring its success.
Al-Hayat:  They agreed in principle then?
Salam:  No, they did not agree. I raised the issue and did not ask for their approval, because the issue is very delicate and sensitive. Each party has different circumstances, reasons and backgrounds to consider; but we must try, which I did, and I will spare no additional effort if that is required.
Source : Al Monitor