FBI identified the Islamist who beheaded 2 American journalists in Syria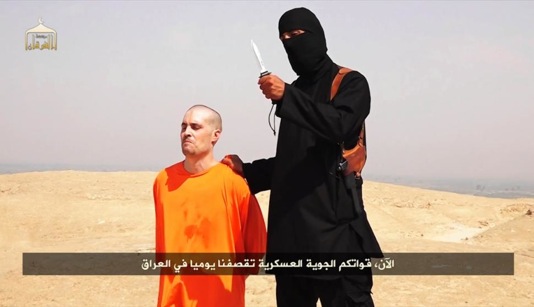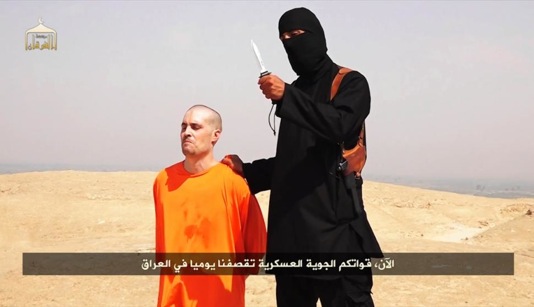 FBI Director James B. Comey said the United States has determined the identity of the Islamist militant who beheaded two American journalists in Syria, but declined to provide any additional information on the masked operative who spoke in a British accent.
"I believe we have identified him," Comey said during a briefing with reporters at FBI headquarters in Washington, the first time that a U.S. official had narrowed the investigation of that killer to a specific suspect.
The videotaped beheadings of U.S. journalists James Foley and Steven Sotloff contributed to the Obama administration's escalation of its campaign against the Islamist State, the militant group that has been the main target of U.S. airstrikes in Syria this week.
Comey also cited the continued threat posed by a separate al-Qaeda cell in Syria known as the Khorasan group, saying it has been one of his principal concerns in recent months and that he believes the group is probably still largely intact even after it was hit with a barrage of U.S. cruise missiles.
"I believe the group still exists," Comey said, adding later that he is "not confident at all" that an alleged Khorasan effort to mount terrorist attacks against Europe and the United States has been thwarted.
Comey's remarks coincided with separate comments by the Iraqi Prime Minister, Haider al-Abadi, that Iraqi intelligence had gathered information indicating that the Islamic State was preparing potential attacks against subway systems in the United States or Europe. But Comey and other senior U.S. officials said they were unaware of such a threat.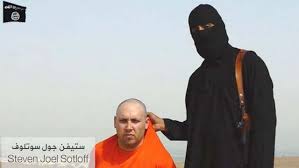 The Islamic State is an al-Qaeda offshoot that has seized territory in Iraq and Syria. It has also killed a British aid worker and described the sequence of executions as retaliation against the United States and its allies for military operations against the group.
This week Obama expanded a limited campaign of strikes in Iraq to a broader assault that hit dozens of targets inside Syria, marking the first direct U.S. military intervention into that country's three-year-old civil war.
Because of the killer's distinct accent, the investigation into the killing of Foley and Sotloff has focused on a pool of hundreds of British militants who are believed to have traveled to Syria to fight.
A senior U.S. intelligence official said investigators had ruled out as a suspect a young rapper of Egyptian descent named Adel Abdel Bary, who traveled last year from London to Syria. Bary's father was extradited to the United States in 2012 to stand trial for his suspected role in the 1998 U.S. embassy bombings in East Africa. He pleaded guilty last week to terrorism charges in New York but a federal judge expressed concerns about the dealand has yet to accept it.
According to people familiar with the investigation, the British-accented killer spoke excellent Arabic and wore a mask at all times while overseeing the hostages.
The people said he probably grew up in an Arabic- speaking home in England. One person said the killer's family possibly came from Yemen or Sudan.
Authorities have been using voice analysis to try determine the killer's identity but another U.S. intelligence official said the FBI was able to identify the killer using other means.
Comey declined to say how the FBI identified the alleged killer, or to what extent it had cooperated with British authorities.
Comey also said the bureau has focused its efforts on more than 100 Americans who have traveled or attempted to travel to Syria. Many have returned or been prevented from departing, Comey said, but he noted that "a dozen are still there fighting . . . with terrorist groups."
Washington Post