Rai: "No one is more important than the presidency"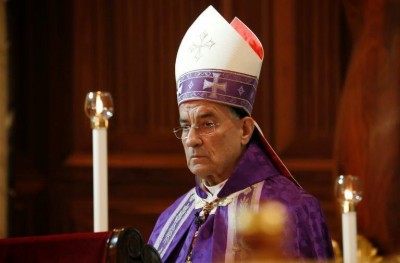 Maronite Patriarch Beshara al-Rai slammed  the Lebanese politicians on Sunday  for keeping the Baabda presidential   palace vacant  for several months and accused them of being authoritarian .
"No one is more important than the presidency," he stressed.
"Perhaps the nation's lawmakers are not aware that the president is the symbol of the country's unity," said al-Rai during his  Sunday mass .
"Maybe they don't want a president so that they continue to spread chaos and cover up for corruption," he said.
"The politicians are still practicing authoritarianism, leading to a blatant violation of the constitution and the non-election of a president," al-Rai added.
The patriarch urged politicians to "put aside all their personal and sectarian interests" and elect a president.
 Speaker Nabih Berri adjourned the  Sept 2 parliament session to elect a president until September 23, after the Lebanese parliament failed for the eleventh time in a row to elect a president to replace Michel Suleiman whose term ended on May 25. Each time the parliament was unable to reach a quorum because the March 8 MPs affiliated with the Iranian backed Hezbollah militant group  and MP Michel Aoun's Change and Reform bloc boycotted the sessions.