France launches first air strikes on Isamic State in Iraq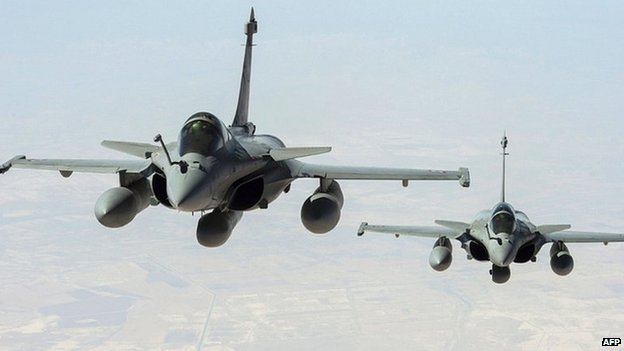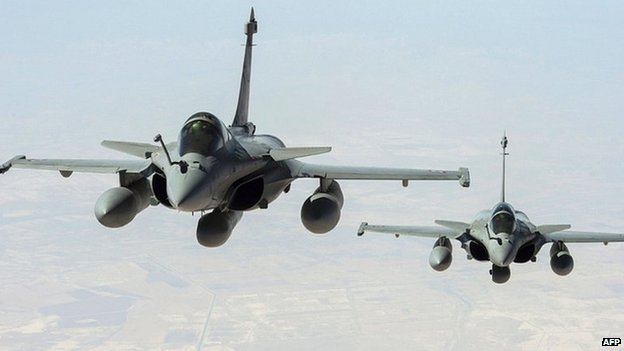 French jets have carried out their first strikes against Islamic State (IS) militants in Iraq, the office of President Francois Hollande says.
A statement said planes had attacked an IS depot in north-east Iraq, and there would be more raids in the coming days.
The US has carried out more than 170 air strikes against the jihadist group in Iraq since mid-August.
IS remains in control of dozens of cities and towns in Iraq and Syria, where it has declared a caliphate.
Friday's air strike comes a day after President Hollande said he had agreed to an Iraqi request for air support, but it would only target IS in Iraq and not in neighbouring Syria.
He also insisted that he would not send ground troops.
France had already been carrying out reconnaissance flights over Iraq and providing weapons to Kurdish fighters in the north.
Mr Hollande's office said Rafale planes had carried out the attack and "the objective was hit and completely destroyed".
"Other operations will follow in the coming days," the statement added.
It did not give details on the type of material at the depot, nor its exact location.
However, Qassim al-Moussawi, a spokesman for the Iraqi military, said four French air strikes had hit the town of Zumar, killing dozens of militants, AP news agency reported.
The BBC's Hugh Schofield in Paris says it is the first sign of President Hollande's determination to join military action against IS.
On Monday, France – which opposed the 2003 US-led invasion of Iraq – hosted an international conference on the crisis.
It saw 26 countries pledge their commitment to supporting the new Iraqi government in its fight against IS "by any means necessary, including appropriate military assistance".
Friday's air strike took place while US Gen Martin Dempsey, chairman of the Joint Chiefs of Staff, was in France for talks with his counterpart, Gen Pierre de Villiers.
"The French were our very first ally and they are there again for us," he told reporters in Normandy.
"It just reminds me why these relationships really matter."
The UK has also been conducting reconnaissance flights in support of the US air campaign.
It has not ruled out air strikes in Iraq or Syria, but has said that targeting IS positions in the latter would be complicated.
On Thursday, the US Senate approved President Barack Obama's plan to arm and train moderate Syrian rebels to fight IS.
US air strikes are now expected in Syria, but Mr Obama has pledged to not authorise a ground operation in either country.
How coalition is assembling against IS:

Country
Air strikes /surveillance
Equipment/personnel
Logistical
United States
Air strikes on IS positions in Iraq, also authorised in Syria
1,000 advisory staff, aircraft carrier hosting 65 aircraft, including F/A-18 fighter jets, Apache attack helicopters and drones
Train and equip moderate Syrian rebels
UK
Iraq – surveillance only
Tornado fighter jets, Hercules transport planes, Chinook helicopters, 1 Rivet Joint surveillance aircraft. Arms for Kurds
France
Iraq – air strikes and surveillance
Rafale fighter jets + arms for Kurds
Germany
40 advisory staff + arms for Kurds
Australia
600 advisory staff + up to 10 aircraft – F/A-18 fighters, tankers and support aircraft
Gulf countries
Allow use of air bases and air space
Saudi Arabia
Allow bases to be used for training of moderate Syrian rebels
Turkey
Aid and logistical operations from Nato air base