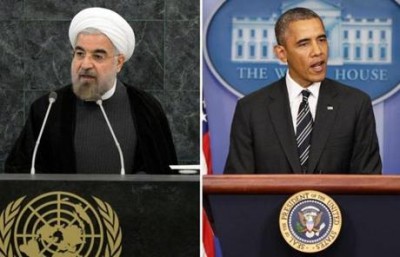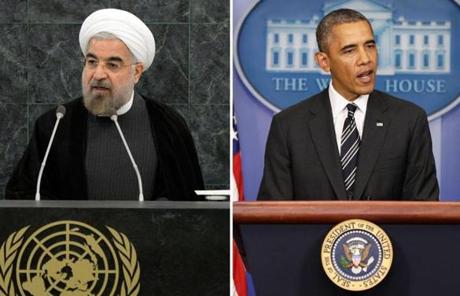 One year ago, President Barack Obama and Iranian President Hassan Rouhani came close to ending the decades-long freeze on face-to-face meetings between their countries' leaders.
Next week both men are scheduled to again be in New York for United Nations meetings but expectations for even a handshake are more muted than they were last fall. While lower level officials from both countries are now in regular contact, deadlocked nuclear talks — as well as the complexities of the fight against militants in the Middle East — are clouding the prospects for an elusive leaders' meeting.
"The state of play between the United States and Iran is too fragile to endure what would be the shock of a direct meeting," said Robin Wright, a joint fellow at the Wilson Center and the U.S. Institute of Peace in Washington.
An in-person meeting between the two leaders would mark a substantive shift in the way the U.S. has dealt with Iran for decades and could eventually open the door for talks on matters beyond Tehran's disputed nuclear program. It would also mark the fulfillment of a pledge Obama made as a presidential candidate when he said he would be willing to talk to America's adversaries without pre-conditions.
Obama spokesman Josh Earnest said a meeting with Rouhani is not on Obama's "dance card" next week, though the White House has not ruled out the possibility that the two men could have an encounter on the sidelines of the U.N. General Assembly. Obama and Rouhani will both arrive in New York early next week for meetings with world leaders and speeches to the UN.
The White House's public posture is noticeably different than it was heading into last year's U.N. meetings, which came on the heels of Rouhani's surprise victory in Iran's presidential elections. White House officials said repeatedly that Obama was willing to meet with the new, more moderate-sounding Iranian leader. And when plans for the meeting eventually fell apart, U.S. officials made clear that it was the Iranians who balked, not Obama.
Still, Obama and Rouhani did speak by telephone for 15 minutes, the first time the presidents of the United States and Iran had talked directly since the 1979 Iranian revolution and siege of the American embassy. The conversation was hailed as an historic breakthrough, and Obama said it offered the prospect of the two countries moving beyond their difficult history.
Since then, there has been progress in the U.S.-Iranian relationship.
Obama administration officials are in regular touch with their Iranian counterparts, exchanging phone calls and emails. A series of secret talks between officials in both countries also paved the way for nuclear negotiations with the international community. The parties reached an interim agreement late last year, freezing key elements of Iran's nuclear program in exchange for the easing of some Western sanctions that have hampered the Islamic republic's economy.
But the talks have stalled over intense disagreements between Iran and the negotiating coalition of the U.S., Britain, France, Germany, Russia and China. At the heart of the dispute are stubborn differences over the size and capacity of nuclear activities Tehran might be able to maintain.
While the U.S. contends Iran is trying to build a bomb, Tehran says its nuclear program is for peaceful purposes.
The U.S and its negotiating partners will hold a new round of nuclear talks with their Iranian counterparts in New York in the days before Obama and Rouhani arrive for the U.N. discussions. There will also be bilateral talks between U.S. and Iranian officials on the sidelines of the meetings.
Administration officials say the outcome of both negotiating channels will contribute to decisions on whether anything can be gained from a meeting between Obama and Rouhani next week.
Domestic political concerns are also at play for both countries as they weigh potential talks between the leaders. U.S. lawmakers from both parties are skeptical of Iran's intentions, with some fearing that Tehran is using the talks to stall while continuing to build its nuclear program. Rouhani faces pressure from Iran's supreme leader, Ayatollah Ali Khamenei, and others who don't want to give away a nuclear program that is a source of pride for the Islamic republic.
"Rouhani is desperately trying to prevent the Supreme Leader from destroying negotiations. He has hardliners who are very critical," said James Acton, a senior associate at the Carnegie Endowment for International Peace. "Rouhani would probably lose quite a lot from an Obama meeting."
Adding a new layer of complications to the prospect of a first-time meeting with Obama and Rouhani: the U.S.-led fight against Islamic State militants in Iraq and Syria.
Iraq sees Shiite-powerhouse Iran as go-between who could bring its influence to bear in the region against the Sunni extremists of the Islamic State group. While the U.S. has ruled out cooperating militarily or sharing intelligence with Iran, Secretary of State John Kerry said this week that he was "open to have a conversation at some point in time if there's a way to find something constructive."
Kerry's comments came after Khamenei said the U.S. had requested that Tehran join the fight against the Islamic State group. The overture was rejected, Khamenei said, because of Washington's "unclean intentions."
ABC/Associated Press